Heat prove to Bulls dethroning champs won't be so easy
If Tuesday's season opener is any indication, Derrick Rose and the Bulls are nowhere close to dethroning the champion Heat.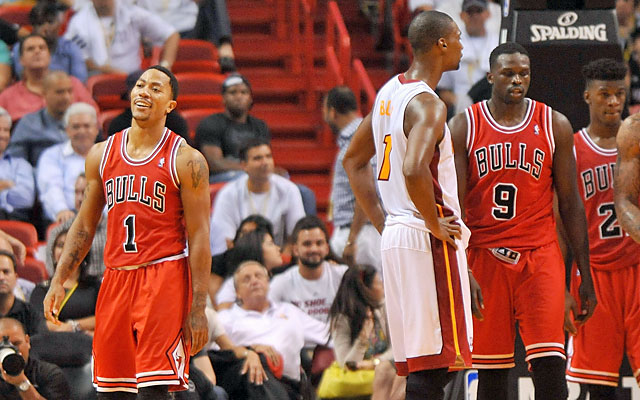 MIAMI -- Derrick Rose's first welcome-back moment came 98 seconds into his first game of any consequence in 18 months. It was an explosive, driving layup that gave the Chicago Bulls their first points of the season -- his first official points in 549 days.
The rest of the game was Rose's real welcome-back moment -- a sobering reminder of all that has happened while he was away, a cruel illustration of how hard it will be to put this Bulls team back together and stop the Heat's championship run.
The last time Rose was able to walk off the court after a game that mattered as much as this one felt like it did, he and the Bulls had just fallen short against Miami in the 2011 Eastern Conference finals. The loss to the Heat in Game 5 of that series was a measuring stick for Rose, fuel for his competitive fire. More important, it was a roadmap for the standard LeBron James and the Heat ultimately would hold him to in the East.
All that has happened since then was on full display on Tuesday night in Miami, where the Heat humbled the Bulls in a 107-95 victory that validated the two championships they've won since Rose went down in Game 1 of the 2012 playoffs. The Heat played like champions, because they are. The Bulls played like a team that's just coming together and trying to build something.
Because they are.
"You're not going to go around them," Bulls coach Tom Thibodeau had been saying earlier in the day at shootaround. "You're chasing the same thing. They're the defending champs, and you've got to knock them off. They have something we want."
It was only one game, but on this night, it seemed so out of reach.
Fresh off their second straight championship, having kissed their rings and seen the banner raised to the rafters at American Airlines Arena, the Heat were crisper in their execution, faster to the loose balls, more tied together on defense and more ruthless in their pursuit of victory. There was no hunger lost; if anything, their singular mission to bury last season's championship and chase another one was somehow more desperate.
It was the first test of Miami in what will be a rough-and-tumble run through the East -- a minefield of talent, superstardom and experience. With Rose back with the Bulls, the Pacers growing up and getting better, the two teams in New York loaded with stars, everyone wants a piece of LeBron and his rings. If you want to knock off the Heat, you better get in line.
"We really want to beat those guys," Joakim Noah said at his locker afterward.
With the Bulls of Thibodeau, desire has never been a question. Without Rose, they beat the Nets in the first round last season and went up 1-0 on Miami before running out of fumes, out of ways to score, out of hope.
In the snapshot we got on Tuesday night -- the first of 82 for both and the first of four between them this season -- the Heat resembled the confident, precise, merciless machine they've become since the last time they vanquished the Bulls in the playoffs.
The Bulls still looked like a team that doesn't have enough to beat them.
"Keep working; there's no secret," said Carlos Boozer, who had 31 points and seven rebounds in defeat. "The quote that we use is, 'The magic's in the work.' They're the champs. We want to be champs. We have to get better."
And they will. His ACL injury a distant memory, Rose will not go 4-for-15 -- including 1-for-7 from 3-point range -- with 12 points, five turnovers and four assists very often.
The problem is, the Heat essentially have a two-year head start. They have two titles, the maniacal pursuit of a third and the best player on the planet in an unforgiving mood when it comes to those who intend to take it from him.
On the first night of a long journey, James and the Heat simply picked up where they left off. For Rose and the Bulls, the institutional knowledge of what it will take to beat them was understandably stale.
"A little stagnant offensively," Noah said. "And defensively, we didn't do well, either. We weren't all on the same page."
The Bulls weren't in sync at all, unable to find a consistent scoring outlet besides Boozer with Rose facing a relentless diet of double teams. Sound familiar? That's what happened in the 2011 conference finals.
They were a step slow in Thibodeau's infamous, LeBron-stopping defensive scheme, too. How slow were they? Flirting with a 20-point lead in the third, James attacked in transition near the top of the 3-point arc and had time to motion to Chris Andersen to cut to the basket before drilling a no-look, one-handed bounce pass for a dunk.
Not fair.
"You can just tell by their offensive execution; it's very fluid," Noah said. "Defensively, they have a system that's in place. Everybody knows what they're doing."
And the Bulls?
"I think that the potential for us is crazy," Noah said. "It's tough to lose to this team. We obviously want to beat them. We wanted to ruin their party tonight. But it didn't work out that way. Next time we play them, we will play a lot better. We will be a lot better."
In case you're wondering, Noah knows exactly when that will be.
"December fifth or seventh?" he said. "Something like that?"
It's Dec. 5 in Chicago, and yes, the Bulls will be better.
A scary thought: So, too, will the Heat.      
Show Comments
Hide Comments
On draft night, Lonzo Ball said dealing with his dad isn't a problem

Boston used the No. 3 pick on the Duke forward, hoping he can develop into a dominant scor...

This could get awkward for OKC fans, who lost their superstar to Golden State
Golden State didn't have a pick in this year's draft, but they found a player they wanted

Butler was overseas with other NBA players when he heard the Bulls had traded him

The crowd at draft let themselves be heard, but nothing could get under Ball's skin Thursday...