Heat-Spurs Game 2 Preview: Can LeBron James and the Heat respond?
LeBron James and the Heat will try to even the NBA Finals on Sunday night.
• 2 min read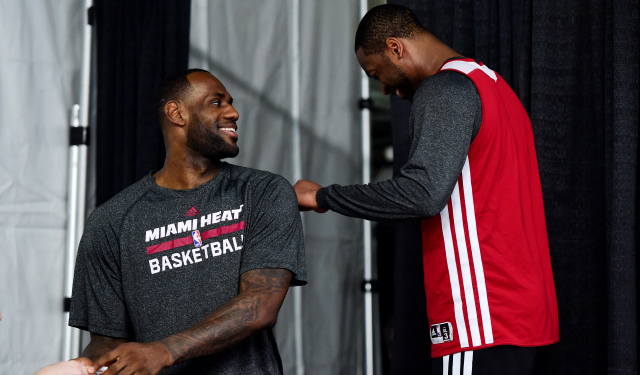 More postseason coverage: Playoff schedule, results | Latest news, notes
Previewing Game 2 of the Heat-Spurs NBA Finals.
1. The Facts: Sunday, 8 p.m. ET (ABC). Follow the action here. Everyone is healthy.
2. Where We Are: San Antonio took a 1-0 lead in the series Thursday thanks to a 30-9 fourth-quarter run. That spurt was not entirely unrelated to the fact that the best player in the world was sitting on Miami's bench with a debilitating cramp, as the air conditioning in the AT&T Center was not functioning. Despite the difficult environment, both teams played at an extremely high level for the vast majority of the game, albeit with some turnover problems. 
Tim Duncan was magnificent in Game 1, scoring 21 points, grabbing 10 rebounds and shooting 9-for-10 from the field. Tony Parker (19 points, eight assists) showed no lingering ankle issues, Manu Ginobili (16 points, 11 assists) was brilliant and Danny Green caught fire late in the game. Something tells me the Spurs won't shoot 59 percent from the field again on Sunday. The Heat tend to respond well after losses.
3. The Big Number: 12. That's the number of consecutive playoff wins for Miami after a loss. The Heat have not lost back-to-back games in the postseason since the 2012 Eastern Conference finals against the Boston Celtics. In that series, they lost Games 2 through 5 and then LeBron James erupted for 45 points in a Game 6 blowout and then they closed Boston out in Game 7. The point is, again, Miami is most dangerous when trailing and when doubted.
4. Key Adjustment: There's not one glaring thing that the Heat need to do differently, and they could well have a lead in the series if James had been able to compete down the stretch. That said, they need to do a better job of sticking with Danny Green, they need to get more out of Mario Chalmers and they could stand to reduce Rashard Lewis' minutes a touch.
5. The Big Story: The story is James. In the two days since cramp-gate, he has fielded all sorts of questions about what happened to his body. He has taken silly criticism for not playing when he physically could not, and Gatorade made some dumb jokes about him on Twitter. Heat coach Erik Spoelstra defended him and his track record, and on Sunday said James "feels better," showing no signs of issues heading into Sunday. James said  he knows he's the easiest target in sports. He didn't sound too bothered by all the discussion, though:
LeBron: "No worries. You guys can talk about me as much as you want. I'll be there on Sunday. I'm not hiding."

— Joseph Goodman (@JoeGoodmanJr) June 6, 2014
As Game 2 approaches, all eyes will be on the four-time MVP. He had 25 points on 9-for-17 shooting, plus six rebounds, three assists and three steals in 33 minutes on Thursday, but that wasn't enough. Miami has three other potential Hall of Famers on the roster, but the team relies on James immensely — this should be as clear now as it has ever been. Will James let the game come to him, or will he come out looking to make a statement? The former is usually his style, but we've seen the latter before in big moments. Falling down 2-0 wouldn't be the end of the world for Miami, but wouldn't be ideal. James knows that, and this set of circumstances could spark something special.
Show Comments
Hide Comments
Our Latest Stories
Who doesn't trust The Process at this point?

The big man missed his fourth straight game Wednesday because of an Achilles injury

Philadelphia coach Brett Brown quashed rumors that the No. 1 pick could debut this month
He's a huge stabilizing force for New Orleans, but his future is unclear

The Thunder had three high-end stars yet never won a championship

Lue says Green's foul on LeBron was an attempt to send a message to the Cavs