Heat to start Chris Bosh in NBA Finals Game 2 vs. Thunder
The Miami Heat will start Chris Bosh in Game 2 of the NBA Finals versus the Oklahoma City Thunder.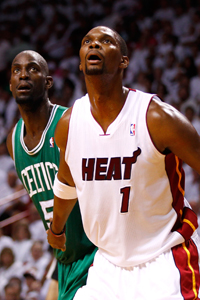 The Heat will start Chris Bosh during Game 2 of The Finals. 
(Getty Images)
OKLAHOMA CITY -- The marathon of uncertainty regarding Chris Bosh's rotation status is finally coming to an end on Thursday night.
The Miami Heat announced before Game 2 of the
NBA
Finals against the Oklahoma City
Thunder
that Bosh would enter the starting lineup for the first time since suffering a lower abdominal strain during Game 1 of the Eastern Conference semifinals against the Indiana Pacers.
Bosh missed three weeks of the playoffs -- sitting out nine games -- before returning in a reserve role during Game 5 of the Eastern Conference finals against the Boston Celtics.
The Heat will start guards
Mario Chalmers
and
Dwyane Wade
, along with forwards
LeBron James
,
Shane Battier
and Bosh. Forward
Udonis Haslem
will return to the bench. The move marks the seventh starting lineup that the Heat have used during the 2012 playoffs.
Earlier Thursday, the Heat gave hints that they would return Bosh to the starting lineup. While offering no definitive statements, Heat coach Erik Spoelstra did say at shootaround on Thursday that he was ready to begin using Bosh like he did before his All-Star forward went down with his injury.
"The main guys will be playing quite a bit of minutes," he said. "How we use Chris might be a little bit more like how we used him in the regular season. I think he's gotten his feet wet enough. We'll need him to be a little bit more who he was."
Bosh scored 10 points and grabbed five rebounds while shooting 4-for-11 in 34 minutes during Miami's Game 1 loss on Tuesday. The 34 minutes represented the most he's played since he returned to action during the Eastern Conference finals against the Boston Celtics and nearly matched his season average of 35. Bosh played 14 minutes in Game 5 against Boston, 28 minutes in Game 6 and 31 minutes in Game 7. 
Bosh wouldn't reveal whether or not he will start at shootaround on Thursday but did say he feels healthy enough to give "100 percent effort." 
"The only time you're 100 percent is the first day of training camp," he said. "[I'm] good enough to give 100 percent effort right now. I've always stayed confident no matter what happened. I did suffer a setback, but I think I've overcome it pretty well and every game I'm getting better. I expect to improve this game, and we keep saying that opportunities are there. I'm just going to have to be explosive in order to get it."
Heat forward LeBron James said that he's seen progress in the conditioning of his teammate, who Spoelstra said asked out of multiple games against the Celtics because he was winded.
"[Bosh] has his legs," he said. "He feels like he's as close to 100 percent as possible. it's a big boost for us. We'll see what happens."
Bosh also said that he will be looking to do more offensively after being a relative non-factor in Game 1.
"We've been watching film and areas where I've been successful in the past are open," he said. "I can really be effective in the paint. Rolling to the rim and trying to get opportunities for my teammates. We're going to spread the floor a little bit, but I'm not going to be the one who spreads. I think I'm going to be a primary big, rolling to the paint, being a post presence and trying to get lay-up opportunities."
As he has since Bosh returned, Spoelstra downplayed expectations for Bosh while simultaneously talking up his importance.
"He doesn't have to play outside of who he is," he said. "We don't need him to score 30 or take 25 field goal attempts. We need him to be aggressive, offensive-minded, facilitate offense for us. All those things that made us the most important player for us."
Miami has now used seven different starting lineups during the 2012 playoffs. By contrast, the Thunder have used just one.
During all five games against the New York Knicks in the first round, Miami started Chalmers, Wade, James, Bosh and Haslem. The Heat used the same lineup in Game 1 against the Pacers. In Game 2 against the Pacers, Miami went with Turiaf, James, Wade, Haslem and Chalmers. In Game 3 against the Pacers, Miami started James, Wade, Chalmers, Battier and center
Dexter Pittman
. In Games 4, 5 and 6 against the Pacers and Games 1, 2 and 3 against the Celtics, Miami started James, Wade, Chalmers, Battier and Turiaf. In Game 4 vs. the Celtics, Miami started James, Wade, Chalmers, Battier and center
Joel Anthony
. In Games 5, 6 and 7 vs. the Celtics and Game 1 vs. the Thunder, Miami started James, Wade, Chalmers, Battier and Haslem.
Show Comments
Hide Comments
Houston advances, and San Antonio is set up to follow suit after its Game 5 win

This is fuel to the Westbrook haters' fire

How to watch the first-round series between L.A. and Utah
The playoffs are getting interesting

Harden didn't play great, no one could shoot, and the Rockets still rolled to a 4-1 series...

The Cavs and Warriors have both swept their first-round opponents