Heat's Chalmers suspended one game for forearm to Nowitzki
Miami Heat point guard Mario Chalmers objected Saturday to a suspension the NBA handed down for his forearm to the head of Dallas Maverick Dirk Nowitzki.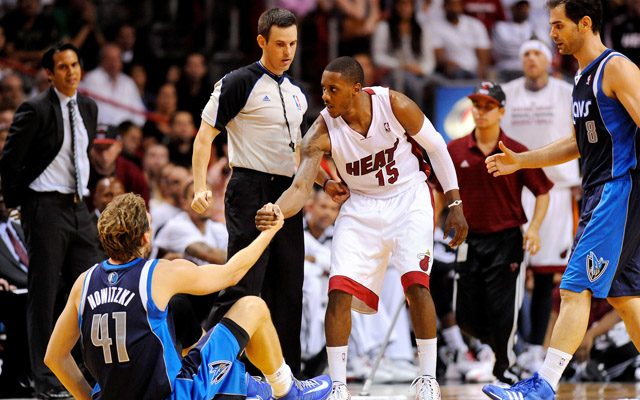 Heat point guard Mario Chalmers was suspended for one game Satuday by the NBA for striking Dirk Nowitzki in the head with a forearm in the Heat's win Friday over Dallas in Miami. Here's video of the hit. 
Chalmers posted the following to Twitter Saturday: 
Never in my career been a dirty player. It's clear that my arm was being held and that's wat caused me to hit dirk. Enough is enough man

— Mario Chalmers (@mchalmers15) November 16, 2013
Chalmers told reporters after the game Friday night:
"Dalembert had my arm so I had to get my arm free," Chalmers said Friday of his swinging motion. "There was nothing intentional about it. I didn't even see Dirk."

   Chalmers tried to appeal the call before he was ushered from the court by the Heat's director of security.

   "I just told them, 'Look at the replay and look at Dalembert holding my arm,' " Chalmers said. "That's all I said to them."
via Miami Heat guard Mario Chalmers faces sanctions after foul vs. Dallas Mavericks forward Dirk Nowitzki - Sun Sentinel.
Chalmers will serve the suspension Saturday for the Heat's game in Charlotte. 
Sacramento signs Serbian to 3-year, $36 million contract while passing on Ben McLemore

Free agency is around the corner, which means there could be a ton of significant moves coming...

The Knicks still intend to trade Carmelo Anthony even with Phil Jackson gone
Paul George is a college football coach at heart

CP3, the Point God, is headed to Clutch City, and the NBA landscape has again flipped on its...

According to one league executive, Chris Paul 'despised' Clippers coach Doc Rivers