Heat's LeBron James to wear a clear mask on Saturday
Miami Heat star LeBron James is likely to wear a clear mask instead of the carbon fiber version the next time they play.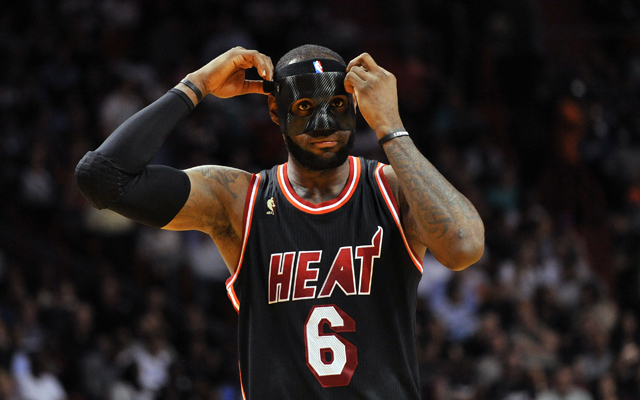 UPDATE (3:22 p.m. ET Saturday): Heat coach Erik Spoelstra said LeBron James would comply with the NBA's request that he wear a clear mask Saturday night, rather than the black version he wore Thursday vs. the Knicks in Miami.
Miami plays Orlando at 7 p.m. ET Saturday night.
PREVIOUS POST: Did you get enough of LeBane James Thursday night when the Miami Heat destroyed the New York Knicks? Hopefully you did because we may not see LeBron James wearing the carbon fiber version of the protective mask we saw on Thursday. While the NBA hasn't banned black masks like we've seen James, Kobe Bryant, and Kyrie Irving wear, it appears they prefer to see players wear the clear masks like we're used to with Richard Hamilton's accessory choice.
That's why Ethan Skolnick of Bleacher Report tells us to not be surprised if James is wearing a clear mask Saturday when the Heat face the Orlando Magic.
Don't be surprised if LeBron wears a clear mask on Saturday. League has not banned the black mask, but prefers the clear. One is in works.

— Ethan J. Skolnick (@EthanJSkolnick) February 28, 2014
James had a phenomenal night in the dark mask, scoring 31 points on 13-of-19 shooting to go with four rebounds and four assists. That might have been him drawing power from the new mask or it might have been him playing against the Knicks' atrocious defense. Regardless, we'll have the opportunity to judge whether he plays better in a black mask or a clear mask soon enough.
Show Comments
Hide Comments
Iverson clapped back at Tim Hardaway for his claims that The Answer carried the ball

Riley signed Bosh to a five-year, $118M contract back in 2014

The Grizzlies take on the Spurs on Wednesday night in a pivotal Game 5
It's not all about Stephen Curry and LeBron James being awesome -- we knew that already

Riley says he had a close friend who "talked him off the ledge"

Bryant continues his interesting post-retirement appearances