Heat's Michael Beasley: 'Why wouldn't I want to come back?'
Miami forward Michael Beasley hasn't played a big role this season, but would like to return.
• 1 min read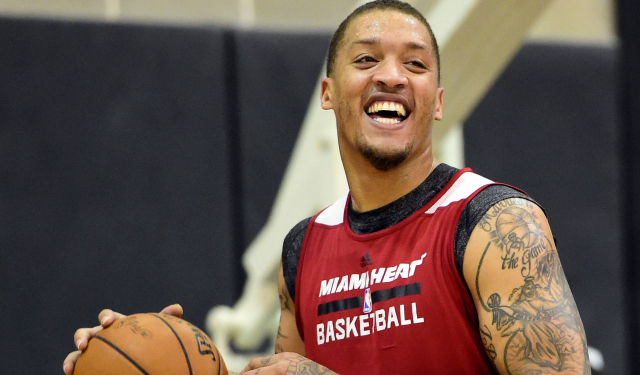 More Game 5: Preview | Doyel on Miami's Big Three | Duncan eyes 5th title
Miami Heat forward Michael Beasley has played a total of six minutes in the playoffs and zero in the NBA Finals, but he would like to return next season, via Ira Winderman of the South Florida Sun Sentinel.
The question catches Michael Beasley off guard, as if there even is a reason for asking.

"Of course," he says, "why wouldn't I want to come back?"

…

"Honestly, this season has flown by faster than any other I've been in," the skilled forward said of experiencing May and June while still at work. "I don't know why. I don't know how. I guess it really does fly when you're having fun."
Beasley, Miami's former No. 2 overall pick in 2008, spent the three seasons prior to this one playing a bigger role but missing the playoffs in Minnesota and Phoenix. After the Suns waived him, the Heat signed Beasley to a minimum, unguaranteed contract in September. To his credit, in the regular season he played the most efficient basketball of his career, albeit in short bursts.
If LeBron James, Dwyane Wade and Chris Bosh all return, with each holding early-termination options, a Beasley return would again come with no promise of minutes, but with considerable playoff hope.

"A chance to win a ring is definitely satisfying," he said. "It's fun for a while trying to do it yourself, but losing basketball, it gets old. I definitely would opt for the extended season."
Six years into his career, Beasley has yet to find his place. Perhaps that can happen next year, though. With Shane Battier retiring and Rashard Lewis' contract expiring, there could be an opening for him at power forward. He might not have earned head coach Erik Spoelstra's trust the point where he could be a playoff factor, but he did show flashes of being able to fit into Miami's system. He and the Heat can build on that.
Show Comments
Hide Comments
Thunder fans used the term 'cupcake' in reference to Durant after he left OKC in free agen...

There appeared to be some wishful thinking on the part of Charlotte general manager Rich C...

Thompson is one of the best shooters in the league, but it appears dunking isn't his speci...
Cuban was willing to part ways with employees who leaked ahead of the official announcemen...

Draymond wasn't mad about the move, though. He was mad about the way he heard about it

All-Star forward was sent from the Bulls to the Timberwolves on draft night