Here They Come: Lakers move into 8th seed with win over Bulls
The Lakers are back in the playoff position in the standings after a win over the Bulls on Sunday.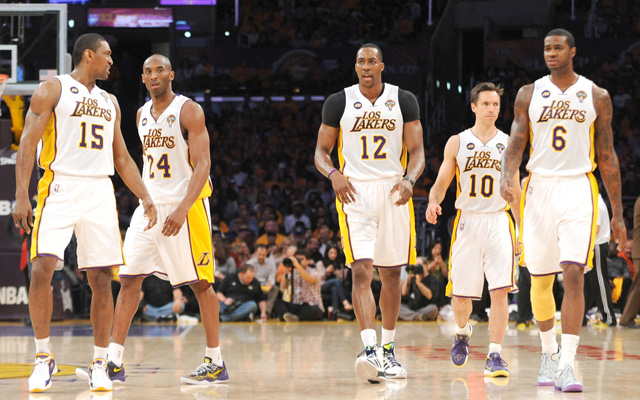 The Los Angeles Lakers  moved back into playoff position Sunday with their win over the Chicago Bulls , pulling a half-game ahead of the Chernobyl-like meltdown that is the Utah Jazz . After all the terrible play, the drama and the miserable losses, the Lakers have taken control of their destiny.
More on Bulls-Lakers
Related links
They are not world-beaters, despite the gaudy post-All-Star-break record. Their last two wins since being manhandled by the Oklahoma City Thunder last Thursday featured two double-digit comebacks against lottery teams. The Bulls entered Sunday's game without Derrick Rose , Kirk Hinrich and Taj Gibson . But the standings are the standings, and the team is two games over .500 for the first time all year.
What's more, the Lakers are just two games back of the suddenly collapsing Golden State Warriors for the sixth seed. That could lead to a first-round matchup with the considerably weaker Los Angeles Clippers , Memphis Grizzlies  or Denver Nuggets , opening up a much higher possibility of making the second round.
On Sunday, it was impossible to determine if the Lakers were legitimately that improved defensively, holding the Bulls to just .907 points per possession, a miserable mark. Was that Dwight Howard 's activity (21 rebounds, 4 blocks) and an improved focus overall? Or was it the Bulls' floundering offense without all of its components. Carlos Boozer , who has struggled in the second half of the season anyway, especially has trouble vs. Howard's length, and shot just 4 of 16 from the floor. But no one could shoot for the Bulls. Luol Deng (5 of 16), Nate Robinson (8 of 19), Marco Belinelli (5 of 15), no one.
Outside of the story of the Lakers' resurrection, you have to start wondering if the Bulls need a better offensive system whether Rose returns or not.
The Lakers are the story of the day, though, finally back in playoffs position, looking dangerous, coming together, and maybe just a little bit healthy even without Pau Gasol .
It would take the most dramatic turn of events for the Lakers to return to championship contention this season, even after the recent run. But given how this year has gone for the Lakeshow, isn't that right in line with the script?
Show Comments
Hide Comments
Les Alexander appeared to complain to a referee in the middle of live play

Houston has a 3-1 lead. Here's how to watch the rest of the series

The playoffs are getting interesting
The Cavs and Warriors have both swept their first-round opponents

The series returns to Los Angeles for a pivotal Game 5

We'll be seeing this Westbrook face from Game 5 a lot