Hibbert wants in 'Georgetown Mount Rushmore' of bigs
Pacers All-Star says winning Defensive Player of the Year would mean a lot to him for joining elite company from his alma mater.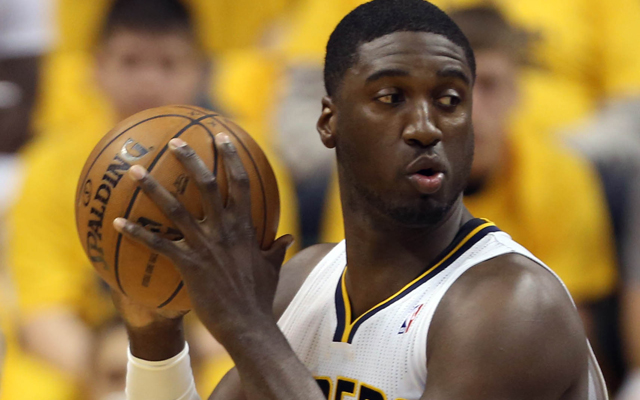 For all the talks about Mount Rushmores this week, presumptive Defensive Player of the Year Pacers center Roy Hibbert had an interesting take on what it would mean if he were to win the award. Hibbert says it would put him in some exclusive company that means a lot to him.
"For me,Georgetown is the Mount Rushmore of bigs," Hibbert said Friday at All-Star availability, "with Dikembe (Mutombo) Alonzo (Mourning, and Patrick (Ewing). Winning Defensive Player of the Year would mean a lot to me because of those guys. I wouldn't be here if it weren't for Georgetown, so that would mean a lot to me.
Hibbert's impact comes mostly in non-box-score-measurable ways, but here's how the "Georgetown Mount Rushmore" would look if Hibbert won DPOY to add himself to the list, including Defensive Rating which calculates opponent points per 100 possessions with the player on-court.
Hibbert would be the youngest Hoya of the group to win the award. 
Georgetown's defensive NBA centers
Player
1st DPOY
Age
Blocks
Rebs.
Def. rating
Patrick Ewing
None, using '94
31
2.7
11.2
93
Dikembe Motombo
1995
28
3.9
12.5
103
Alonzo Mourning
1999
28
3.9
11
93
Roy Hibbert
None, using '14
27
2.5
7.7
94
Show Comments
Hide Comments
Our Latest Stories
Heat forward continues comeback efforts but without long-time representative Leon Rose

Longtime GM says team has to win more than 17 games but there are no real standards for im...

Former Bull won't respond to comments he is no longer a 'frontline' player.
The staff at the Q will get some championship bling

The Trail Blazers look to improve on last year's success

Teams are working to maintain honor and respect for the anthem and players' rights of expr...