Historic Continuum: How the streak affects the legacies of the Heat
A look at the impact of the streak on the legacies of the Heat players.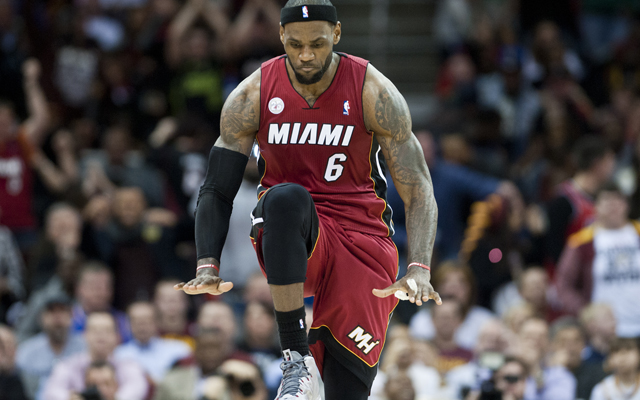 STREAK ENDS AT 27: Top 10 Moments | Streak by the numbers | How Bulls ended it 
So it's over. The Miami Heat's 27-game winning streak came to an end at the hands of Luol Deng, Carlos Boozer, Nate Robinson and company of the Chicago Bulls on Wednesday night. The '72 Lakers can rest easy with their streak intact, and the Heat go down with the second-longest in NBA history, the longest since the ABA merger. 
So what does that mean, if anything? 
Does this affect how we look at these players? Let's take a brief look. 
LeBron James: LeBron James has been hounded his career by the perception that he drifted. He would defer too much, he would fail to make the plays consistently, that he would put in the production but not control the game consistently. If nothing else, the streak changed that. On top of his ridiculous streak of games in which he shot 60 percent, James took his ability to control the pace of a game to an entirely new level. He took games over and led the Heat back from deficits time and time again. Had Chris Bosh made a few jumpers, just a few, he might have just done it again Wednesday night. 
The 2009-10 season still stands as James' best statistically, but this will be the season that everyone remembers, and the streak has likely confirmed his fourth MVP, putting him in an exceptional place in history. The streak will be discussed when people speak of this season for James, provided he does not fail to win the title. It was a remarkable run. The Heat might not have the longest winning streak in history, but James stands as the best player of any winning streak above 20 games. 
Dwyane Wade: Wade struggled earlier this season, and his performance during the streak solidified him once again as back among the top three shooting guards in the league. Wade already had a head start on James in terms of historic achievement with his first title, but James has been the better player since joining Miami. Still, being a part of this streak elevates Wade to another level and helps his overall historic standing among the greatest guards to play the game. As good as James was, Wade was just as important, especially in key wins over Cleveland and Oklahoma City. 
Chris Bosh: Bosh wasn't great during the streak. He was fine. But, honestly, Bosh was also the biggest reason the streak ended. However, Bosh's videobomb streak really added something special. The Heat wouldn't have had the streak without Bosh, but it's hard to see how his involvment really impacts him long term. 
Shane Battier: Battier has now been a part of two of the three longest winning streaks in NBA history. For a player who faced blowback based on his advanced statistical impact and defensive prowess, this gives him a cold, hard, result-oriented measure to take pride in. For Battier, it's also proof that the process, which is what he focuses on, is what matters, and that it can lead to sustained success. That has to feel good. 
Battier is making a late-career argument for a Hall of Fame spot down the line, as one of the best role players in terms of defense and perimeter shooting for great teams. He has won a metric ton of games, and his impact during this streak is undeniable. For all the additions the Heat placed around the Triad, Battier seems to be the biggest of them all, contributing in huge ways to the title and the streak. 
Ray Allen: So the all-time leader in made 3-pointers now has the second-longest winning streak under his belt. That's not a bad combo and just more ammo for his Hall of Fame addition. Allen, like Jason Kidd, has had such amazingly different eras in his career. It's incredible all that he has been a part of. 
Mario Chalmers: Chalmers now thinks he was the best point guard for any team to win more than 22 games in a season. So he's got that going for him. 
Erik Spoelstra: No one's going to talk about this. 
But seriously, Erik Spoelstra coached a team to 27 wins in a row. Twenty. Seven. I don't care how much talent he had. I don't care if he had a team of killer robots to manage. I don't care if he had LeBron James, Michael Jordan or Bo Jackson in Tecmo Bowl. He won 27 games in a row. And to keep your team sharp, to continually put up plays late in games to get stops and buckets, to manage egos and the flow of a game, Spoesltra needs more credit than he has gotten. 
Coaching talent is harder than it seems in the NBA, and plenty of guys have failed. Not only has Spoelstra succeeded, but he has helped build one of the best teams of all time. Might want to notice that he has done that at such a young age. 
Show Comments
Hide Comments
League to host its first awards show to announce the winners of major honors, such as MVP

They'll be the only team in the league wearing Jordan Brand uniforms next season

On a night of blowouts, Stephen Curry led the Warriors to a sweep and the Raptors got their...
The playoffs are getting interesting

The Cavs and Warriors have both swept their first-round opponents

Our NBA experts predict the first round of the playoffs