How does Jeremy Lin fit with the Rockets?
Now that the Knicks have allowed Jeremy Lin to walk away to the Houston Rockets in free agency, how does Linsanity fit into the system in Clutch City?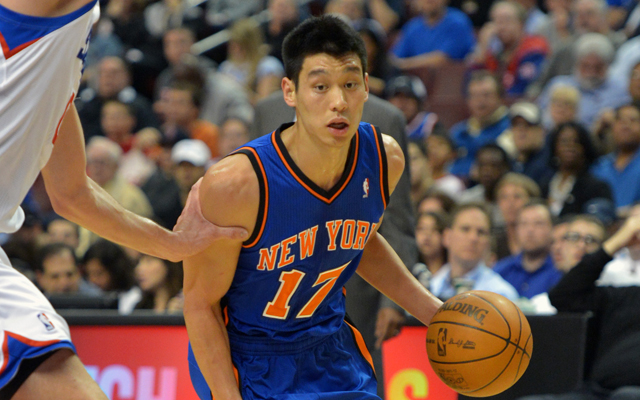 Jeremy Lin will navigate the offense for Houston next season.
(Getty Images)
OK, so we can sit here and argue all day and night over whether the New York Knicks should have matched the $25.1 million offer-sheet for Jeremy Lin and kept Linsanity at a fever pitch in New York. But the fact is that the deadline has passed, the Knicks did not match, and Lin is a Rocket.

So what exactly does that mean?

Well, for starters, Lin solves a gaping hole in the Houston Rockets ' backcourt at point guard. After letting Goran Dragic go in restricted free agency and then trading Kyle Lowy over his displeasure with Kevin McHale, the Rockets had no one to run the team outside of Toney Douglas . Yeah. Toney Douglas. So Lin fits a big need there.

But that pretends that Lin is any other point guard. In reality, Lin represents something that GM Daryl Morey has been chasing for years: a star. And since he couldn't pull in any of the certified, marquee names to Houston despite efforts for Carmelo Anthony , Dwight Howard, and others, he had to take a risk. So Morey rolled the dice on a player with just 25 games under his belt, huge potential and enormous marketing consequences. It's someone to build around, it's someone to put in front of the fans as a recognizable name, it's someone to market around. It's a business win as much as a basketball win.


As for the basketball, that's going to be fascinating to watch.

For the purposes of this exercise, we're going to act like the Rockets don't get Dwight Howard, don't pull in any more stars or major trades, do not pass go, do not collect $200. We'll pretend that the roster they have right now is what they start the year with, plus the addition of Omer Asik should the always-cost-conscious Chicago Bulls not match the Rockets' other huge offer sheet for the Turkish big man.

The Rockets have an unbelievably bizarre lineup as it stands. It's a roster with the most valued asset in the NBA right now, versatility, and lacking in the starter blocks for most contending teams: starpower and lock-down defense.

Outside of Lin, the next biggest name on roster, again, should he still be there, is going to be Kevin Martin . Martin struggled last season under Kevin McHale's system, the lockout fatigue, and the change in rules to prevent his ability to draw shooting fouls.

But Lin will likely help with that. Having an on-ball creator specifically able to draw the double-team and adept at the drive-and-kick will give Martin more opportunities. Kyle Lowry is a better point guard than Lin, he just is, but his passing tendencies aren't as strong on the drive-and-kick to the corner as Lin's.

Expect Chandler Parsons and Lin to come to a pretty solid chemistry early. Using Parsons in a 1-3 pick and roll is going to allow the Rockets to utilize Parson's athleticism and his shooting touch, which could really push him forward into a next level of ability after a promising rookie season.

There aren't many athletic finishers down low for the Rockets, but that's OK, because one area in which Lin struggled was the lob off the pick and roll. He had difficulty finding Chandler for the alley-oop and the same issue existed with Amar'e Stoudemire . Lin has a natural and instinctive understanding of the pick and roll, but it doesn't have much to do with the lob, it's more ground-based.

While that's trickier to manage, you could see talented rookies Royce White and Terrence Jones really flourish with that kind of dynamic, and Lin could bring them along faster than they might have with a more veteran player like Lowry or even Dragic.

A big secret that no one's going to catch onto until the season starts is Donatas Motiejunas , who is lighting up Summer League for the Rockets. A seven-foot big man who can light it up from the arc, Motiejunas and Lin could absolutely crush opponents on the pick and pop, with Motiejunas' size giving Lin room to operate and his range torching opponents unable to step out to defend due to having to hedge against Lin on the drive off the screen. Motiejunas has a long way to go in terms of the mechanics and strength necessary for that, but he's shown promise here.

The Rockets look like a team that isn't going to be a title contender, but does very much look like a team with the odd pieces to put Lin in a position to succeed. More so than the ISOMelo sets in New York, the Rockets are building a wide-open set with young players like Jeremy Lamb , Royce White, Terrence Jones, and Chandler Parsons, and some versatility as well.

If they don't get Dwight Howard, the Rockets may not even be good enough to make the playoffs. Lin's certainly going to be a defensive liability and on nights where he doesn't have it going, it could be difficult for them to score. But they're going to be fast, exciting, and versatile. The kind of team you want to build towards something new with, honestly.

Or they could get Dwight Howard.

You know, either way.
Show Comments
Hide Comments
And Grizzlies coach David Fizdale didn't exactly disagree

Toronto survives, but struggles to do so

San Antonio will face the Houston Rockets in the second round
The 40-year-old is coming up big in the playoffs

Toronto eliminated Milwaukee in Game 6 on Thursday

Surgery is to "repair core muscle-related injuries"