How Jimmy Butler and the Bulls corralled the King
Chicago gets huge win over LeBron James and the Heat with tough defense.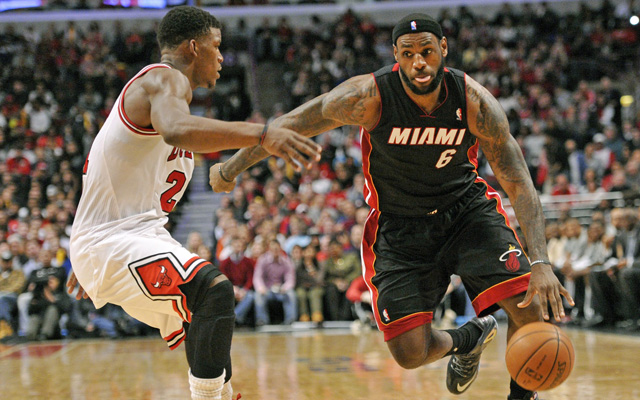 More Bulls-Heat: Does Chicago have an extra gear? | Butler kicks James
There are a handful of guys in the league who can be reasonably described as "LeBron-Stoppers." The list of players who can stop James (and in reality, we're talking slow down, because over the course of a 7-game series, he's going to do work) has to include in some order: Boris Diaw (amazingly), Paul George, Kawhi Leonard, Andrei Kirilenko and the Bulls' Jimmy Butler. 
Butler isn't the youngest of the group. (That's Kawhi Leonard, but George is also younger). He's not the biggest (Kirilenko has the wingspan, Diaw the... er... size). And he's not the biggest name player (Hello, Paul George). But he may be the most effective. 
It was startling display on Sunday in the Bulls' 95-88 win over Miami. James was limited to 17 points on 8-of-23 shooting vs. Chicago. He did rack up nine boards and eight assists. And while it wasn't all Butler, but the rangy two-guard did play a huge part in limiting James' effectiveness. Here are five things that contributed to James' poor game. 
1. James can't post Butler. James usually obliterates smaller guards like Butler in the post. But a combination of the Bulls' superb help schemes, Butler's fast, active hands, and the fact that Butler's size works to his advantage negated James' ability. James suffers in matchups against guards of exactly Butler's size because if James drops his shoulder and Butler flops, he'll rack up calls. The foul calls usually wind up swinging against James, and he can't afford to pick up extra ones. 
2. In the pick and roll, Butler has a ton of help.  Take a look at what happens when James goes over a screen for one of his drives in the first half.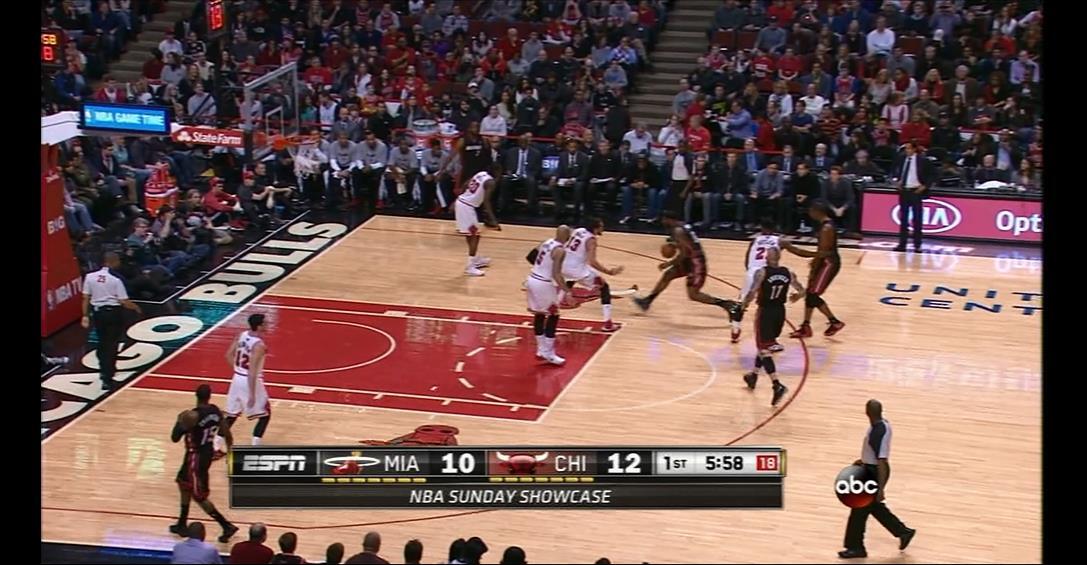 There's nowhere for him to go. Joakim Noah is so good at attacking the elbow. Once the Bulls shored up their baseline defense in the first half, James had no options in the pick and roll outside of pick and pops to Chris Bosh. 
And when the switch occurs, this happens: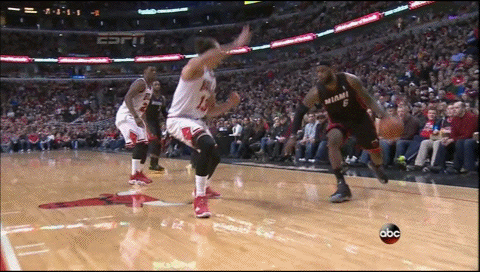 3. Active hands. The Bulls are maybe the best team in the league at swiping at the ball. It's something they took from Tom Thibodeau's Celtics teams. Underneath the basket they're always swiping, grabbing, swatting, tipping. James was stripped twice late in the game, including one on a potential winning shot when Butler managed to reach across James' entire body without drawing a foul, and cleanly knock the ball loose. That kind of play isn't about effort or scheme, it's just skill that's been honed by Chicago, and it was a big difference in this game. 
4. Butler's willing to try and get in his head. It's not every day you get to kick the most powerful guy in your sport in the head. 
5. Butler gives him space without laying off. Understanding how much space to give James is difficult. You have to be able to contest his jumper, but also lay back to give yourself room to stay with him if he drives. Butler's understanding of space against James was terrific Sunday and helped in forcing James into jumpers. 
In reality, you have to wonder how much the broken nose has to do with this. James ditched the mask completely vs. the Bulls, and while his jumper was center-of-the-ocean wet vs. Charlotte, it has been frozen since. He's struggling from the perimeter and seems tentative to drive and absorb contact. That may have had a lot to do with what happened Sunday, but that's an adjustment James must make. 
As for what Butler did, it was nearly flawless. 
If the Bulls are going to pull a massive playoff upset over Miami at some point, Butler will have to be the hero as he was Sunday, and in the first game of their playoff series last spring. 
It should be noted the Bulls are now 7-1 in Chicago in the Thibodeau era vs. the Heat and have outscored them by 33 points ... in the regular season. In the playoffs? They're 1-4 in Chicago since 2011 and are minus-25 in that stretch. 
Shaquille O'Neal certainly knows how to bring attention to himself

Warriors, who are not leaning on taxpayers for the arena, plan to pay back the fee after 30...

In a documentary short, Redick explains part of the reason he left the Clippers for the 76...
The Cavs are reportedly nearing a deal with Rose, but the Lakers will try to persuade him to...

The former NBA All-Star launched a successful second career overseas

Tom Thibodeau confirmed locking up Wiggins is the next step for Minnesota after a busy sum...