If Knicks and Nets were offering playoff preview, we say, 'Yes, please'
A tight game that came down to the final seconds between the Knicks and Nets on Monday was their final meeting of the 2012-13 season. Unless, of course, they meet again in the playoffs, to which we say, "Yes, please."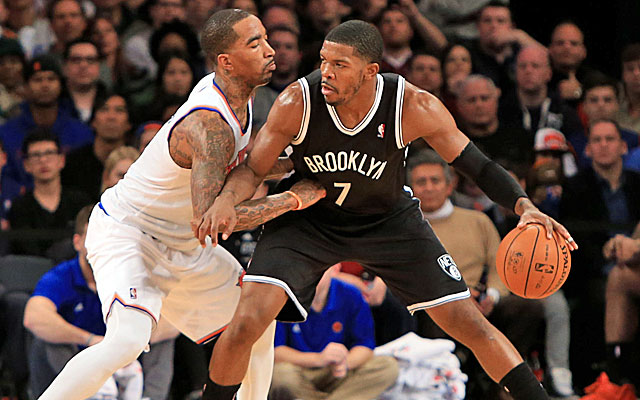 A revitalized Joe Johnson scores 25 points in the Nets' win over the Knicks (US Presswire)
NEW YORK -- So much has happened since the Knicks and Nets met on Nov. 26 in their Hurricane Sandy-delayed showdown, the first of a four-game regular season series that concluded Monday with a Martin Luther King Jr. Day matinee that left you wanting more.
The Nets have a new coach, and are 11-2 under that coach, P.J. Carlesimo, after beating the Knicks 88-85 Monday. The team from Brooklyn has a new All-Star, too. His name is Joe Johnson, and while nobody knows where he's been for two months, he's here now and playing like Joe Johnson.
The revolving door to the Knicks' training room has continued spinning at a dizzying clip, but another former All-Star has emerged from it and showed a few glimpses of his old form Monday. That would be Amar'e Stoudemire, who had five baskets spanning the third and fourth quarters, three of which were assisted by Anthony -- and another of which immediately preceded a basket by Anthony. Stoudemire finished with 15 points, not his highest-scoring game since returning from knee surgery, but his most involved -- and his most cooperative game while on the floor with Anthony.
"Common-sense basketball," said Anthony, who finished with 29 points and a season-high seven assists. "If he's open, give him the ball, and he finishes."
That's kind of how it's supposed to work, but it's how it did not work between Anthony and Jeremy Lin and how it's all too rarely worked between he and Stoudemire since they joined forces after the February 2011 trade that brought Anthony to New York from Denver.
"Today he was doing a great job of playing off of me when I had the ball and finding the open spot," Anthony said. "If that's going to happen, we're going to get that a lot, especially when teams put bigger guys on myself. His man is going to have to have to come over and help when I attack, and it leaves him wide open."
None of this is to say that all is well at Madison Square Garden, or that the Knicks should even dare to hope for a playoff reunion with these Nets now that their four-game regular season series has ended -- dead even at 2-2. Since their 18-5 start, the Knicks are 7-9 and have allowed 100 points or more in seven of those nine losses. The defense they played Monday was the best showing they've managed to put together against a quality opponent in weeks.
The Nets are 12-6 during the same span, including 11-2 under Carlesimo (7-0 at home, a place that is only six miles from the Garden).  They are healthier, better organized and rejuvenated in the backcourt under Carlesimo. In the past 10 games, Johnson is shooting 41 percent from the field and backcourt mate Deron Williams is shooting 42 percent -- after both had been hovering under 40 percent to that point in the season.
On Monday, Johnson morphed into the Nets' best and No. 1 option, culminating his afternoon by feasting on J.R. Smith after a defensive switch to drill a baseline fallaway jumper with 22 seconds left, giving the Nets a one-point lead they would not relinquish. It was the Joe Johnson who had begun to look familiar again to Hawks coach Larry Drew, who remarked after studying video of Johnson's recent games before last week's home-and-home with the Nets, "That looks like the Joe Johnson of old." 
"Some nights he looks like the first or second option, and some nights he looks like the second or third option," Drew said. "It looks like he has adapted to that very well. You can just see that he's trying to find that rhythm. And it looks like, as of lately, that he's starting to get into a rhythm. He trying to find his way within what they do."
Where do the Knicks and Nets go from here? Well, the Knicks go to Boston and the Nets to Minnesota. There's a lot of basketball, a lot of months, before they potentially square off again in a playoff matchup that would be as tense and entertaining as Monday's game, times six. Or better yet, seven.
"It's the beginning of something that's going to be here for a long, long time," Anthony said. "These games that we play against Brooklyn are going to be tough, hard battles. As a Knick, you definitely look forward to that challenge."
Show Comments
Hide Comments
The sign, however, says Jordan never flopped -- which is incorrect, as the film shows

Curry's turnover was a key moment in the Warriors' Game 7 loss last season

Curry is having an impressive postseason campaign, averaging 28.6 points per game
They have consistently posed problems for the Golden Boy, but can they keep it up?

Kerr hasn't coached since Game 2 of the first round against the Trail Blazers

Parker was injured during Game 2 of the Spurs' series vs. the Rockets