Iguodala on Under Armour and KD: 'I had a better shot at Halle Berry!'
On Twitter, Andre Iguodala chimed in on the Kevin Durant shoe situation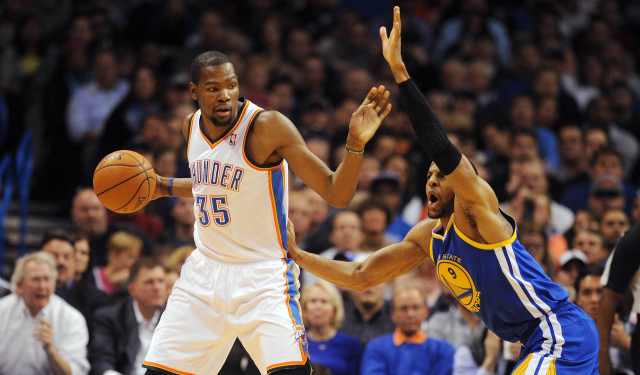 Golden State Warriors swingman (and Nike guy) Andre Iguodala did not think Under Armour ever had a chance of landing Oklahoma City Thunder superstar (and Nike guy, now until 2024) Kevin Durant, even with a $265 million-plus offer on the table. Here's Iguodala's response to ex-teammate Kent Bazemore of the Atlanta Hawks, who wears Under Armour:
@24Bazemore I had a better shot at Halle berry!

— Andre Iguodala (@andre) September 1, 2014
The thing about that is Durant was ready jump ship if Nike didn't pony up. He was essentially a restricted shoe free agent because of the terms of his previous contract. "Indications were strong that he would go to Under Armour," ESPN reported. But, meh, let Iguodala have his joke.
Show Comments
Hide Comments
He also wore an Olympics hat

These "Sager Vision" Jordan 1s are as colorful as you'd expect

Is this finally the season Cousins is universally accepted by the casual NBA fan?
With J.R. Smith along for the ride, LeBron gives a glimpse of his offseason workouts via I...

It's all about how many games he plays