Impact of Rajon Rondo's ACL injury: Will Celtics blow it up?
How the ACL tear of Rajon Rondo impacts the NBA going forward.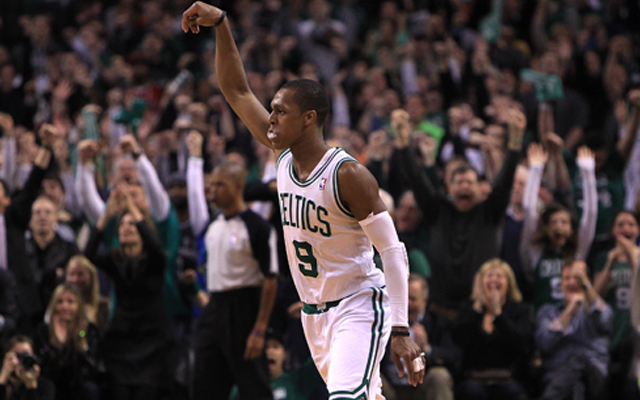 With Rondo out, the league's outlook can shift.
(Getty Images)
With the news that Rajon Rondo is out for the season with a torn ACL, the landscape of the NBA has changed. A preseason Finals contender that was already struggling faces the prospect of the rest of the season without its best player. An All-Star starter will not be attending, and a likely playoff team, if shaky contender, faces a possible rebuild. 
So let's start looking at the impact of Rondo's injury. 
First off, this is a loss for all basketball fans. Rondo's a divisive player among fans, but he's also an excellent star, a fierce competitor -- and arguably the most creative player in the league. The season will be worse without him.
From there, a team that was considering a full blowup anyway based on its below-.500 standing now has a serious decision to make. In the wake of Boston's 100-98 win over Miami, there is going to be a strong emotional reaction by fans and possibly by GM Danny Ainge to let this team ride. The idea is that they can rally around the absence of Rondo and attempt an inspirational run. And you can definitely see the Celtics surging behind the absence of their team leader to a playoff spot, maybe to the second round, and maybe even to the conference finals. 
But can the Celtics win the East, much less the championship, without their best player? Furthermore, it could take Rondo until 2014 to return, depending on recovery time. That could impact the Celtics even more as Pierce and Garnett get another year older. It's difficult to imagine that their chances improve considering those factors. 
There have been increasing signs that Boston may be forced to consider a move or moves. Danny Ainge, though, has always tried to downplay those ideas and remain patient. Ainge has spoken often of how the Bird-era Celtics hung on too long, but he seems emotionally attached to this core that netted the team a champioship and multiple Eastern Conference Championship appearances. With a weak Eastern Conference and little chance of getting superb return for their older players, will a blowup really change anything? These questions and more will face Ainge in the coming days. 
The playoff race
Boston was far from a lock to make the playoffs anyway despite its two-game lead on Philadelphia. Should the Celtics lose ground even a bit, or really, even maintain at their current pace, it's likely a team will overtake them. The Sixers could conceivably, maybe, possibly get Andrew Bynum back at some point, perhaps as early as after the All-Star break, and even an 80 percent Bynum might be enough to close the gap and get them over .500. And as improbably as it seems, the Pistons are just four games back of the 8th seed and have really played pretty solid since their horrible start. Meanwhile, Toronto has the trade assets to make a move and close the gap.
There's just no way to know how Rondo's injury will affect the race. If Boston does not pursue a massive move and chooses to just try its luck no matter the odds, it can hold on. But if Eastern Conference teams were considering making a trade to go for a playoff spot, the window may have opened. 
All-Star Game
This is the least meaningful area of discussion, but it should be addressed. Rondo was voted a starter to the game. There are a number of issues that arise with his replacement. 
The most worthy replacement is Brook Lopez, as we outlined in our snubs piece when the reserve were announced. Lopez has honestly been more worthy than Garnett, Bosh, or even Tyson Chandler. But if the replacement is chosen to keep balance for the backcourt, there are worthy contributors. Deron Williams has the most star power but hasn't played well for Brooklyn until late. Brandon Jennings has been the best player for Milwaukee, but is shooting just .41 percent from the field.
Josh Smith is another candidate, but he's also shooting terribly. You can also see the league giving possible Sixth Man of the Year J.R. Smith the nod. 
Show Comments
Hide Comments
The commissioner's infamous veto of the Paul trade could have been different

Warriors are intent on keeping a mind like Jerry West around

LaVar has always been proud of his son, which Magic says isn't a problem as long as it doesn't...
Curry was cookin' on the pan and stole the show when she took over the mic

Shaq says LeBron isn't comparable to any one legend, rather a mixture of several greats

Kevin Love says the Cavaliers are on the same level as the Warriors: 'We match up well'