In NBA boom times, Derek Fisher knows how to follow the money
As president of the NBPA, Derek Fisher saw the players' share of NBA revenues shrink. Now, he's followed the money to the dark side.
More Knicks: Knicks introduce Fisher |

Talking Fisher | Latest news, notes
MIAMI -- At his NBA Finals news conference, commissioner Adam Silver turned an eye-catching phrase when offering his assessment of the state of the league.
"The business of the NBA has never been better," Silver said.
Evidently, he wasn't kidding.
After a brief cooling-off period in head coaching and front office salaries, happy days are here again. The collective bargaining agreement that Silver negotiated for the league in 2011 dramatically reduced the share of revenue going to the players, and gleeful owners are now pouring their newfound disposable income into areas that the league can't cap, tax or otherwise restrict.
Derek Fisher's five-year, $25 million deal to become head coach of the Knicks, less than two weeks after he played the final game of his 18-year career with the Oklahoma City Thunder, sent shockwaves through the coaching industry. It came on the heels of former TNT analyst Steve Kerr getting the same terms to take over as head coach of the Golden State Warriors following his own flirtation with the Knicks and their $12 million-a-year team president, Phil Jackson.
Though Kerr served as the Phoenix Suns' general manager for three years, he has no head coaching experience. Neither does Fisher. Neither did Jason Kidd before landing the Brooklyn Nets' head coaching job for what now looks like a bargain -- four years, $10.5 million.
Fisher's deal, in particular, is rich with irony. As the president of the National Basketball Players Association during the lockout, Fisher got a crash course in the NBA's voodoo economics. Fisher and since deposed union chief Billy Hunter didn't always see eye-to-eye -- Fisher's complaints about Hunter's business practices ultimately led to the former executive director's removal -- but they were united in their disdain for the owners' negotiating tactics.
Fisher fought the pointless fight in trying to get Silver and the owners to acknowledge that escalating franchise valuations were proof that the owners were doing better than the league's cash-flow numbers indicated. That part of the puzzle continues to bear out, with the Milwaukee Bucks selling for a record $550 million despite playing in a varsity arena with JV revenue streams. Then, the Clippers -- forever the Lakers' roommates at Staples Center -- fetched an astronomical $2 billion in a complicated negotiation that includes the ongoing threat of a lawsuit by Donald Sterling.
For his part, Fisher will be paid more than three times his $1.4 million salary last season as a player under the CBA he helped negotiate. If you can't beat 'em, you know the saying.
"Are owners so optimistic about the future economics that coaching salaries are skyrocketing?" one team executive said.
I'm not sure skyrocketing is the word, but there's no doubt that Fisher, Kidd and the next former player to make the switch from sneakers to wingtips have figured out how to put themselves on the side of the NBA business that is booming.
Of course, the Knicks overpay for everything, so that's nothing new. And Knicks fans don't care how much Fisher is paid -- though if they were to look at their ticket and concession prices, maybe they should. All they care about is whether he can coach. I wish I had a better answer on that one, but here's what I've got:
We don't know.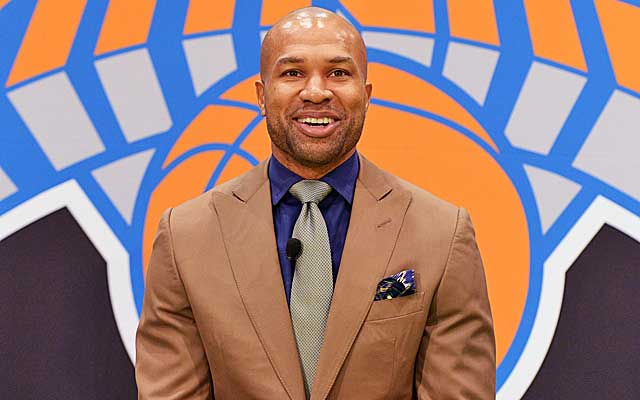 But we know Phil Jackson can.
Fisher, a trusted servant for multiple championships under Jackson, will be executing Jackson's vision and culture as much as his own. Maybe they're one in the same. Ultimately, it won't matter. The Knicks hired Jackson to establish a championship culture, even if at this stage it's more of an out-of-body experience. Unable to stalk the sidelines any more, Jackson will do so via remote control. 
But as Kidd learned, point-guard credentials and big-picture platitudes only get you so far. At some point, Fisher will have to command the huddle, manage the locker room, relate with both role players and stars and ultimately sell Carmelo Anthony on a winning template that must be of Fisher's creation. If Jackson is the executive chef, Fisher will be the one standing over the flames, flipping the gourmet burgers.
Which brings us back to the path that Fisher traveled to get here in the first place. Aside from his impeccable on-court record, Fisher more than earned his leadership stripes by fighting for the players during the lockout -- and subsequently, by forcing Hunter out. Sitting opposite Silver, Clay Bennett, Jeanie Buss, and yes, James Dolan in hotel conference rooms for those many hours three years ago gave Fisher a unique perspective on survival.
He'll need those skills in hefty portions now that the dysfunctional den of Madison Square Garden is his workplace. If nothing else, Fisher has clearly mastered the lessons learned during the lockout about Economics 101 in the NBA: follow the money.
Show Comments
Hide Comments
Butler says he enjoyed playing Rondo this past season, despite their season ending in the first...

Thomas immediately caught fire after losing his front tooth

All-Star guard flew to Washington after Game 6 vs. Bulls to attend his sister's funeral Sa...
The final Game 7 of the first round will tip off at 3:30 p.m. ET

Game 1 of the second-round series between the Celtics and Wizards tips off at 1 p.m. ET on...

The two best point guards in the East go at it in a series sure to be filled with drama.