Indiana Pacers are looking to secure Game 7s on their home court
David West of the Indiana Pacers tells the media that they want to secure home court advantage in order to bring those potential Game 7s to Indiana.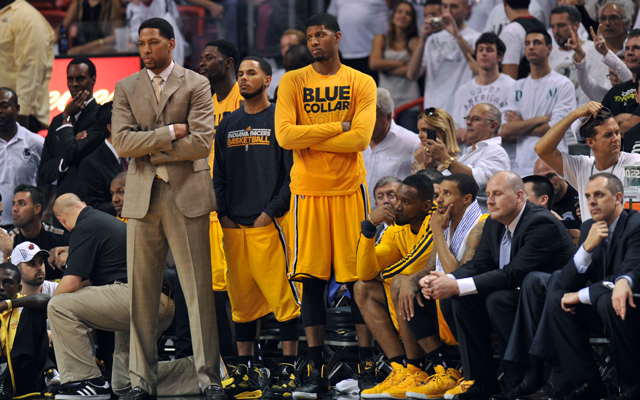 The Indiana Pacers made huge strides during the 2012-13 season that set them up for confidence when competing in the East for the future. After a slow start as they tried to figure out life without Danny Granger, Paul George eventually came around and Roy Hibbert turned back into the player that earned a max contract the previous summer. The Pacers ended up finishing third in the East with 49 wins and took the Miami Heat to seven games in the Eastern Conference Finals before losing on the road in Game 7.
Indiana loved the progress they made but also laments the feeling of losing Game 7 in a hostile environment. They not only want to avoid losing those games, but they also want to make a push in order to guarantee those Game 7s, if they happen, will be at Bankers Life Fieldhouse in Indianapolis during the 2014 playoffs. David West told the media at Pacers Media Day that the focus is to get home court advantage this season.
"Our focus is to be getting Game 7s on our home court," West said. #pacers

— Michael Pointer (@michaelpointer) September 27, 2013
That can seem pretty obvious as a goal but really it shows a focus the Pacers need to take themselves seriously as contenders. A lot of teams would be happy with just making it as far as Indiana did last season and start hoping for things to fall their way if the situation should arise again next season. But for the Pacers, they seem to have an understanding of how close they were but how far they fell and how to help solve that issue in the future. 
Winning enough games to secure home court advantage in the East would be a tall task. The Heat finished with 66 wins last season, 17 more than the Pacers. Even if the Heat only ("only") win 60 games in 2013-14, that leaves the Pacers with the task of winning 12 more games than last season or 11 more games and grabbing the tie-breaker. 
The return of Danny Granger could be a big help in making that a reality. Beefing up the bench with much-needed scoring punch is also a big step for a team that struggled so much on offense. C.J. Watson has replaced D.J. Augustin as the backup point guard, rookie Solomon Hill and Chris Copeland should add scoring help at the forward positions off the bench, and Luis Scola will be the backup to David West.
The Pacers will have a tough road ahead of them if they want to surpass last season and make the NBA Finals. It's good they have a plan of attack, which includes home court advantage, but now they have to execute that play and receive some help along the way.
Show Comments
Hide Comments
Our Latest Stories
Golden State is hoping to get Durant back before the end of the regular season

Shaquille O'Neal wishes his resume was a little bit stronger

The Philadelphia big man said it went 'better than expected'
Maybe just let everybody enjoy this

This is the Mamba mentality, I guess

Hornets swingman Jeremy Lamb hit the star in the eye on Friday