James Harden says he's the best basketball player alive
Rockets star says not only is he the best player right now, but he's "nowhere close" to his potential.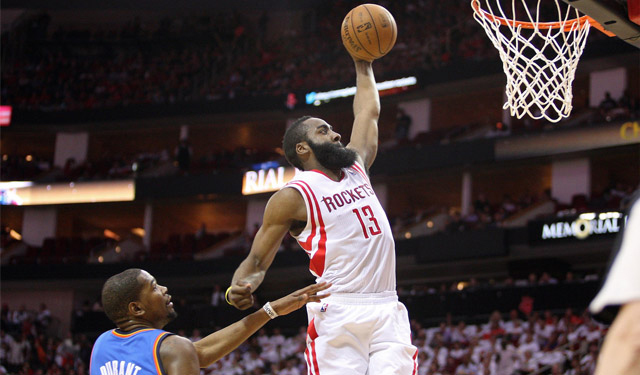 Offseason: Free Agency | Latest from Ken Berger | Rumors
In an interview with ESPN, Houston Rockets star James Harden said what many NBA players think about themselves. 
Scoop: Bottom line, you are on this team and a lot of players aren't, but in your mind, who is the best basketball player alive right now?

Harden: Myself.

Scoop: That's what I was about to say, "including you." You made that sound like it was an easy answer.

Harden: It is. Myself.

Scoop: Then here's the question: Are you where you want to be basketball-wise, even if you are the best?

Harden: Nowhere near close. I've got a long way to go, a lot of learning to do, improvements to make. Um, you know, as long as I'm listening and focused on the right things, I can reach my potential.

Scoop: So in your mind, you haven't reached [your potential] yet?

Harden: Not even close.
via James Harden's confidence still growing -- Sessions - ESPN.
That last part is what was actually more jarring to me. It's one thing to say you're the best player in the league. A lot of stars say that. It's pretty rare to find a player who doesn't say it's themselves regardless of what they really think, because part of the coaching that has been ingrained into them is to believe they are superior to help with their confidence. If you think someone is better than you, you can be beaten. 
But to say you're already the best player in the league, and you're "nowhere close" to being the best you can be? That's pretty stunning. 
Anyway, it's fine for Harden to say it. But you would think given how much he must be aware he struggled defensively last year that he'd say "If I can get my defense back to where it needs to be, I can be the best player in the league" or "If I'm able to put my mind and body to the limit, I can be the best player in the league" or "If I will give half of a crap on defense, I can be the best player in the league." But he was, legitimately, a joke on that end of the floor last year, to the point that I honestly don't believe he deserved an All-NBA nod because his defense was simply that bad. 
But, still, confident players will be confident, and Harden is certainly that. 
Shaq doesn't like LaVar Ball and makes sure everybody knows about it

The Pacers took major advantage of the switch to Nike

If anybody knows what it's like to play with the best it's Scottie Pippen
20 teams have reportedly inquired about Irving's availability, with six already making off...

Wiggins is in the final season of his rookie deal and will be a restricted free agent in 2...

Brandon Jennings will not start off next season in the NBA