James tops worldwide jersey sales
LeBron James wins again, this time at having his jersey sold more than any other player.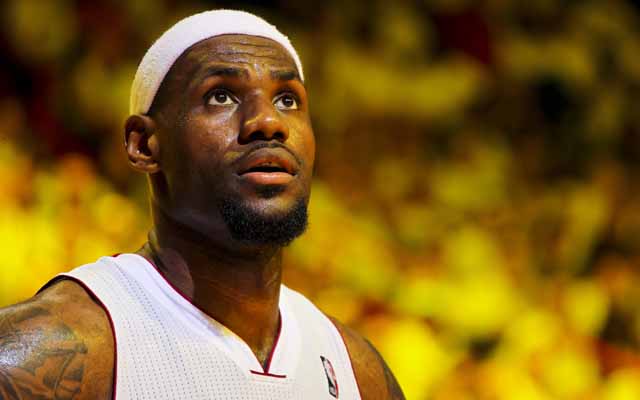 LeBron James finished first at something again. Man, this guy just can't seem to catch a break. 
The league announced total jersey sales for the 2012-13 season and both domestic and worldwide, LeBron's No. 6 Miami Heat jersey topped the list. 
Behind LeBron: Derrick Rose , Kobe Bryant , Kevin Durant and Dwyane Wade . 
"To know that so many people look up to me, so many kids, that's what means more than anything, that I continue to inspire the youth and they look at me as a role model," James said, via the Associated Press. "I understand, when you wear someone's jersey, you actually like believe in them. You believe they can do supernatural things. It's like an extension of our family and I really appreciate that."
When the league released jersey numbers in April, Carmelo Anthony had briefly overtaken him. But LeBron has reclaimed the spot and as a back-to-back champion, it's clearly his world. 
Full lists below:
Global NBA jersey sales for 2012-13 season
1. LeBron James, Heat
2. Derrick Rose, Chicago Bulls
3. Kobe Bryant, Los Angeles Lakers
4. Kevin Durant, Oklahoma City Thunder
5. Dwyane Wade, Heat
6. Carmelo Anthony, New York Knicks
7. Dwight Howard , Houston Rockets
8. Deron Williams , Brooklyn Nets
9. Blake Griffin , Los Angeles Clippers
10. Rajon Rondo , Boston Celtics
11. Steve Nash , Lakers
12. Chris Paul , Clippers
13. Russell Westbrook , Thunder
14. Kevin Garnett , Nets (Celtics)
15. Joe Johnson , Nets
U.S. NBA jersey sales for 2012-13 season
LeBron James, Heat
Derrick Rose, Bulls
Kobe Bryant, Lakers
Kevin Durant, Thunder
Carmelo Anthony, Knicks
Dwyane Wade, Heat
Dwight Howard, Rockets (Lakers)
Deron Williams, Nets
Blake Griffin, Clippers
Rajon Rondo, Celtics
Show Comments
Hide Comments
Somehow, the Celtics have become a significantly better defensive team with Thomas on the...

Will Iggy stay with Golden State? Does anyone have any idea what to do with Derrick Rose?

Hoiberg was asked about Isaiah Thomas possibly carrying the ball during Game 5
Celtics point guard does not need anyone to hype up his defense

The Bulls had it, they had it ... and ... it's gone

The Bulls found they were without hot water following their Game 5 loss