Jason Kidd says it's possible Deron Williams could miss season opener
Nets point guard limited by ankle injury could miss start of season, out at least three more preseason games.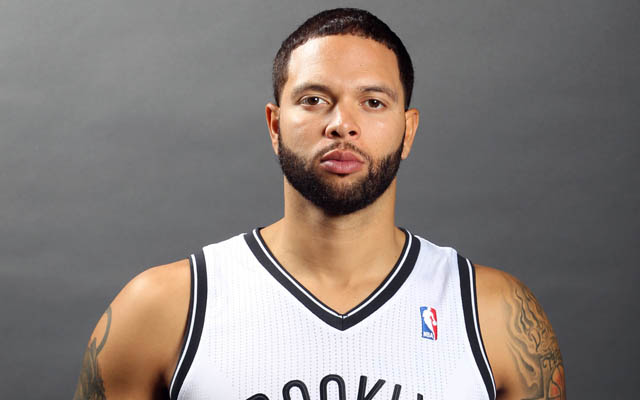 Nets coach Jason Kidd admitted for the first time Saturday that All-Star point guard Deron Williams could miss the start of the regular season due to the ankle injury he suffered in pre-camp pickup that has kept him out of the preseason so far. From ESPN New York: 
Brooklyn Nets coach Jason Kidd left open Saturday the possibility that point guard Deron Williams could miss the start of the regular season.

Nets Blog

Looking for more Nets news? ESPNNewYork.com has you covered. Blog »

"This is going to be a question that we're probably going to have to deal with every day until he does get the green light to go," Kidd said.

"But we're not rushing him. So if we have to start the season with him still trying to get better, I think we all feel comfortable, but we would feel a little bit more comfortable if he was starting."
via Jason Kidd says Deron Williams could miss start of regular season - ESPN New York.
Now that's a possibility, far from a lock, so no need to slam that panic button yet, Nets fans. Kidd said earlier in the week that Williams would miss the next three preseason games after their opener against Washington. Initially, the plan was to keep Williams out the first two games. In a week's time, the timetable has doubled. But again, so far this is just a veteran missing preseason time, something that happens a lot with a nagging injury like an ankle. 
The cause for concern? This is the same injury that limited Williams last season, and forced him to have platelet rich plasma therapy last winter. That treatment, along with three cortasone shots helped him to a significantly better second half of the year, but given that this is an issue dating back over a year, you have to at least be aware of where that panic button is. The Nets simply cannot afford for Williams to be anything less than excellent this year to accomplish their goals. 
It's an ankle, so he could play next preseason game suddenly, he could be fine, it could be a month, these things are consistently hard to predict. 
For now, we'll monitor the situation closely and wait for word of Williams' progress. Williams averaged 19 points and eight assists last season for Brooklyn with the lowest assist percentage (share of teammate field goals assisted upon) since his rookie season. 
Could this have an effect on Carmelo Anthony's future in New York? What about Kristaps Por...

Chicago needs to decide whether to pay Rondo $13.4M next season or buy him out for $3M

Rose played in 64 games for the Knicks before a season-ending knee injury
Durant chose an odd way to shout out his former OKC teammate

Teams are reportedly trying to bring in the veteran forward in an effort to weaken the War...

LeBron has reportedly already ruled out any chance of joining the Clippers