JaVale McGee plans on using his jumper more next season
Nuggets center says he plans on using his jump shot more as new coach Brian Shaw plans on using him more and in different ways.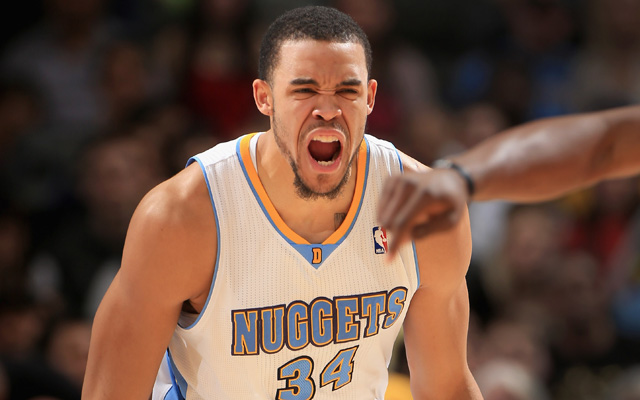 In an interview with NBA.com, Nuggets center JaVale McGee said that he thinks the Nuggets and new coach Brian Shaw are going to want him to use his jumper more next season. 
"I'm definitely getting that feeling from the coaches that I'm going to be more of an impact and getting more minutes," said McGee, who enters his sixth NBA season and second full season in Denver after 3 ½ oddball years with Washington. "It's really up to the coach as to how he wants to use me. It's up to me to work and everything, and I'm going to do that. So if I work hard and I come prepared and in shape for training camp, there's nothing that can stop me but the coach."

"With players, my reputation is of a guy that you don't want to be caught running around with because there's a high probability you're going to get dunked on," McGee said. "And my reputation is also a guy that you want to move the ball around in the air or else you're going to get it blocked, basically."

"I definitely have post moves. I have a mid-range shot that I really never got to use my whole career in the NBA," McGee said. "Coach Karl didn't want his 'bigs' shootings at all. [Defenses are] probably going to leave me open for the mid-range, so I definitely got to take that shot."
via JaVale McGee: Eager To Rise In Stature « Hang Time Blog | NBA.com.
It's true that Karl didn't want his bigs taking he shot, but he also didn't want really anyone taking mid-range jumpers. They're hyper-inefficient from all but the most elite players, which is why Karl preached dunks, layups, threes, and free throws, with mid-range jumpers only as a bail-out. Now, Shaw's system is going to help some guys, most notably Ty Lawson. 
But JaVale does have a lot of skills in his bag, for all the crap he takes for the silly plays that happen. Let's take a look at his chart, shall we?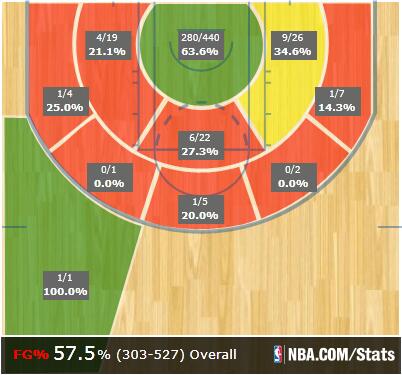 So, that's not optimal. 
But a lot of that comes as the result of rushing shots or not being in rhythm. Of the few makes on his jumper he had last season, he did show some things. Check out these two. 
Those looked OK, right? Other than the bow-legged stance? Maybe McGee has this in his bag and he just hasn't had a chance to use it correctly. He's been working with Hakeem Olajuwon the past two summers, and adding little things to his game. Now most of the time when he went to his post moves last year, it was a disaster, but these things take time, and maybe he just needs more seasoning for them to kick in. 
Either way, with the trade of Kosta Koufos to Memphis, one thing is clear, McGee's going to be a much bigger part of the offense, so he's going to need some things he can go to. Maybe this is the year for JaVale. Maybe...
Show Comments
Hide Comments
Our Latest Stories
Harden, Rockets make an MVP statement on Sunday

You won't see the Rockets guard taking games off

Sacramento scores in the final seconds to stage a miraculous comeback at the Staples Cente...
The Greek Freak shows off again

What just happened on Kobe Bryant's NBA Countdown appearance?

Smith's baby girl, Dakota, had her breathing tube removed