Jazz big man Enes Kanter will have season-ending shoulder surgery
Utah Jazz big man Enes Kanter will undergo surgery to repair his left shoulder and he'll miss the remainder of the season.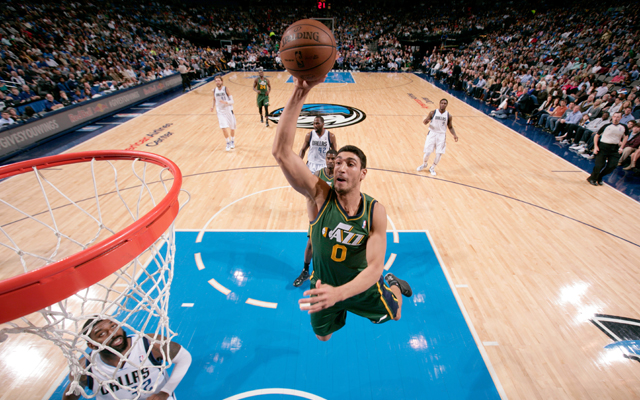 This season has been promising for Jazz second-year big man Enes Kanter, but now it has been cut short because of a shoulder injury that requires repair. 
Kanter had a tough rookie season. He came into the league right before the lockout, picked third in the draft (which brings on expectations of instant impact), and he had to wait months before he could even talk to the coaching staff. Once the season started, teams barely had a training camp and the shortened season meant teams didn't have much time to practice either.
It's pretty hard for a rookie to come in and feel comfortable with what's going on, especially when being a rookie in the NBA is already hard enough. Kanter took it in stride but struggled to find consistency in his play. His lack of athleticism hurt his ability to finish plays against more athletic big men. He didn't play horribly, but he just wasn't able to find a groove to get him a solid spot in a big-man rotation that included Al Jefferson, Paul Millsap and Derrick Favors.
This season, Kanter started off slowly but has been on a tear since the All-Star break. In his last 18 games, he's seen his minutes increased to 18.5 per game, and he's putting up numbers of nearly 20 points and 10 rebounds per 36 minutes during this stretch. He's making 55.3 percent of his field goals and has been a great free-throw shooter at 86.7 percent. He even had a 23-point, 22-rebound game against the Charlotte Bobcats to kick off March. 
Unfortunately for Kanter, his season is now over. The team announced he'll have surgery on his left shoulder, which will end his season, even if the team makes the playoffs.
Following several medical consultations, it has been decided that Enes Kanter will undergo a surgical repair on his injured left shoulder. The procedure will be performed on Wednesday, April 10 in Chicago by Dr. Guido Marra. As a result, Kanter will miss the remainder of the season.

A return-to-activity timeline will be determined following the completion of the surgery.
Kanter hasn't played since March 27 against the Phoenix Suns when he dislocated his shoulder going for a loose ball. This season, he averaged 7.2 points and 4.3 rebounds in 15.4 minutes during the 70 games he appeared in.
Show Comments
Hide Comments
Kyrie Irving went nuts in Game 4 and capped it off with a nasty highlight

Boston is better on defense without Thomas, but it obviously missed him in the second half...

The Cavs are up 3-1, in part thanks to Irving's astonishing performance.
Maybe the best player of all-time has his best season, and he's not even in the discussion...

Cleveland took a 3-1 lead on Boston and will look to close it out Thursday

Boston had a 16-point lead at one point