Jeremy Lamb's length helps the Thunder in subtle ways
The Thunder won Game 4 because of their stars and some subtle contributions from guys like Jeremy Lamb.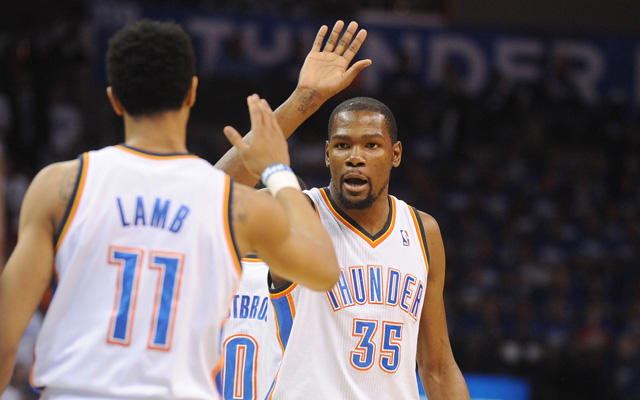 More postseason coverage: Playoff schedule, results | Latest news, notes
It's hard for Scott Brooks to play Jeremy Lamb. The youngster is inexperienced, and inexperienced players make mistakes on defense that are crushing in the playoffs. So the Thunder coach was reluctant to play Lamb in the playoffs, and only resorted to it in Game 4 against the Spurs when Reggie Jackson went down with an ankle injury. 
The result? 
The box score looks like almost nothing. In the relevant part of the game, from the first quarter through 6:46 in the third quarter (when the Spurs threw in the towel and put out their scrubs, who made a run but not a serious one,) Lamb scored just five points, shot 1 of 4, and had just three rebounds. A nothing night, right? 
Except Lamb had three steals and finished with a plus-17 in that stretch. 
Now, plus-minus in a single game has a lot of noise and is generally disregarded. But it matches the eye test in Game 4. On a key play early in the second quarter, Lamb and his exceptional wingspan, which helped him earn his high draft position, skied and tapped a ball away from Tiago Splitter. 
Against the Grizzlies, Lamb couldn't handle the constant physical pressure. Against the Clippers, Lamb couldn't operate with the awareness necessary. But against the Spurs, the Thunder can risk imprecision in order to maximize their athleticism. And that's where Lamb comes in. Lamb's wingspan helps in attacking the Spurs' dribble, and his 3-point range presents a threat, even if he doesn't cash in on it. 
It's little adjustments like this that can determine a series. It's a wonder why it takes injuries or foul trouble (playing Steven Adams over Kendrick Perkins) to help Scott Brooks in the right direction. 
Show Comments
Hide Comments
The Heat star isn't done with the NBA, he believes.

Westbrook may not have been singing to Kevin Durant, but does it matter?

Heat star continues to play even as his NBA future remains uncertain
Baby Shaq and Baby White Chocolate put their talents on display

A young Celtics fan quickly knocks Avery Bradley out

Warriors assistant coach Ron Adams believes KD will be a great defender in Golden State