Jeremy Lin files for trademark rights on 'Linsanity'
Newsday reports that Jeremy Lin has successfully obtained trademark rights for the phrase "Linsanity."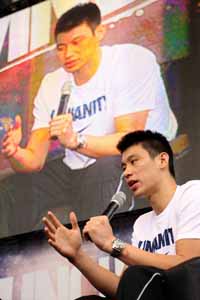 Jeremy Lin has trademarked "Linsanity."
(Getty Images)
It's crazy to me how many people try and make money off of someone else's accomplishments. Wait, I'm a blogger. Nevermind. 
Anyway, Newsday reports that
Jeremy Lin
has successfully obtained trademark rights for the phrase "Linsanity."
"Linsanity" belongs to Jeremy Lin. The U.S. Patent and Trademark Office has registered the term for Lin, who in February moved to take control of the catchphrase that encapsulated his meteoric rise from undrafted player to starter.

Lin's filing Feb. 13 came six days after a California man with no ties to the Knicks guard became the first to apply for a Linsanity trademark.
via Hearing soon on Lin, Novak 'Bird rights'.
Its good that Lin moved to protect himself, though he was also probably advised to do so by both his lawyer and Nike, who had the forethought to get Lin under contract despite his early career troubles. 
Can't wait to get my "Linsanity" lunchbox. A least Lin will be the one to benefit from it.
The Knicks are currently waiting for the decision from an arbitrator regarding whether the Knicks will retain early Bird rights for Lin as he was acquired  off of waivers. The league is expected to win the case, denying the Knicks his Bird rights, putting the team in a tough position to re-sign both Lin and Steve Novak.
Show Comments
Hide Comments
The Bulls great doesn't think Jordan/LeBron comparisons are fair because their roles are so...

The lawsuit stems from McGee's time in Dallas

Hammond had served as Bucks GM since 2008
Brown has played crucial minutes for Boston guarding LeBron James in the Eastern Conference...

The Cavs have had a much tougher time in the two games the Celtics have been without Isaiah...

Jackson left Duke after one season and signed with an agent, forfeiting his option to return...