Jerry Colangelo to stay with Team USA through Rio in 2016
Jerry Colangelo says he'll return to head Team USA basketball for the Olympic Games in Rio for 2016.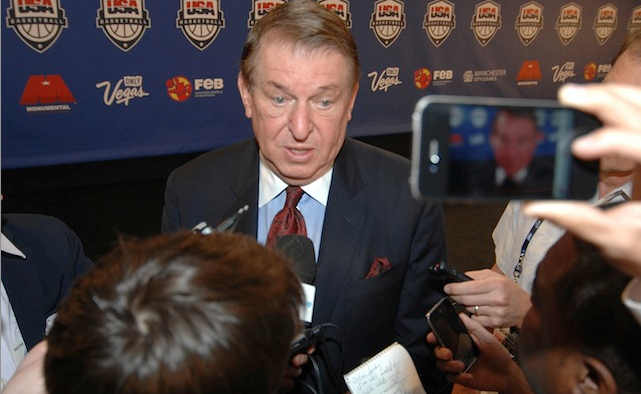 Team USA might get a little makeover. (Getty Images)
When coach Mike Krzyzewski said he was done with the Olympics after taking gold in London, and with there being significant talk of moving the age limit to 23 for the 2016 Games in Rio, there was some discussion of whether Jerry Colangelo would return. 
Colangelo told USA Today on Friday that that question has been answered. 
"I've decided I'm going to continue," Colangelo told USA TODAY Sports. "I'm committed to our organization during this transition period. I want to make sure, as good as things are, that once the baton is handed over to someone it's in even better shape. That's the plan for these next four years."
via Jerry Colangelo wants to return as USA Basketball chairman – USATODAY.com.
Colangelo still has to be re-nominated and approved as chair. That won't be a problem. The women's team is undefeated, the men's 62-1 under Colangelo with two Gold medals and a world championship in the FIBA Tournament. Also, he's considered the Godfather of USA Basketball at this point. 
Colangelo will have to select the next coach, will not only be who heads the team for Rio, but who will bridge the gap between the current organization's leadership and the next. 
But for now, the stability of Colangelo's leadership remains intact. 
Show Comments
Hide Comments
This was a horrible play by the Bulls' guard.

The UCLA product and southern California native has previously indicated his desire to play...

Wall threw down a similarly impressive dunk earlier in the series
LeBron played just under 44 minutes per game in the first round against the Pacers

Markelle Fultz is No. 1, followed by Kansas' Josh Jackson and there are some new names in the...

Leslie Alexander made his way onto the floor to complain about a call