Jim Boylan out as Bucks head coach
The Milwaukee Bucks announced Wednesday that they won't retain coach Jim Boylan, who took over for Scott Skiles midway during the season.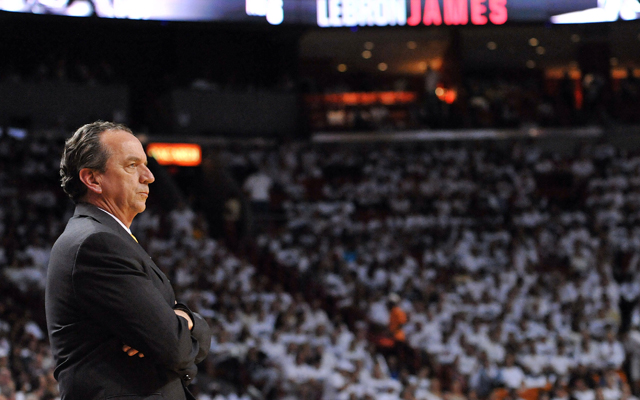 The Milwaukee Bucks have a big summer ahead with roster and personnel decisions all over.
And they're starting by canning their head coach. 
The Bucks will not retain coach Jim Boylan for next season, the team announced Wednesday. Boylan took over for Scott Skiles midway through the season after he and the Bucks agreed to part ways. 
"At this time, we feel it's in the best interest of the organization to seek a new coach to lead our team," general manager John Hammond said in a release. "We appreciate Jim's efforts not only in his time as head coach but in his entire tenure as a coach in Milwaukee. On behalf of the Bucks organization, I thank Jim for his five years here and his many contributions on and off the court. We wish Jim and his wife, Jane, the best."
In 50 games, Boylan went 22-28 and 0-4 in the opening-round sweep to the Heat. 
Boylan was officially the team's head coach and not an interim after replacing Skiles. So the Bucks will officially name their third coach in one year when they name a replacement. 
(Ironically, this was the second time that Boylan followed Skiles. When Skiles was fired by the Chicago Bulls in 2007, Boylan replaced him on an interim basis.)
Look for Kelvin Sampson, a former assistant with the Bucks, to be a name to come up early in their coaching search. 
The Knicks failed to reach the playoffs in Thomas' first stint in New York as president in...

Will Toronto's current team president be the successor of Phil Jackson in New York?

Where are the top NBA free agents heading and who is still available?
Griffin suffered a toe injury that cut short his postseason, and apparently may keep him s...

Daryl Morey feels good about the Rockets chances of pushing the juggernauts with Chris Paul...

Everything you need to keep track of during the all NBA offseason madness