Joakim Noah out several preseason games with groin inury
Bulls center held out as precaution after slipping and suffering groin injury.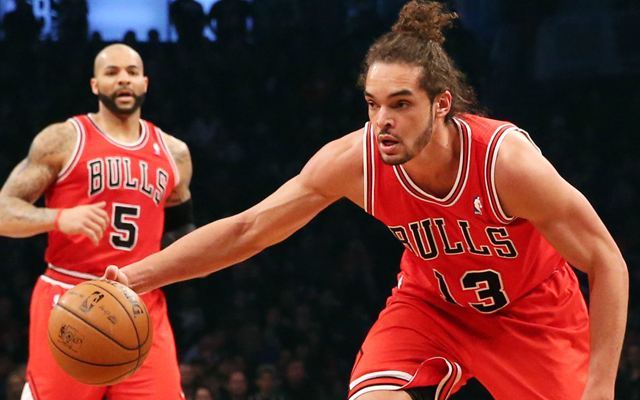 The big news in Saturday's preseason game between the Bulls and Pacers is of course the return of Derrick Rose after nearly an 18-month absence. But while Rose is coming back, another Bull won't be playing in Indianapolis, or for a while. Joakim Noah is going to miss some time.
Hinrich practiced and Thibodeau will decide if he plays tomorrow. Noah's groin sidelined him today and he won't play in Indy.

— K.C. Johnson (@KCJHoop) October 4, 2013
Noah slipped on wet spot on floor a few days ago. They're holding him out as precaution. #Bulls

— K.C. Johnson (@KCJHoop) October 4, 2013
Taj "could" start, Thibs planned to use him more at the 5 anyway. Jo could probably go if it was the regular season, more precautionary.

— Aggrey Sam (@CSNBullsInsider) October 4, 2013
Jo: "I probably won't play for the first couple of preseason games"

— Aggrey Sam (@CSNBullsInsider) October 4, 2013
Even with it being a precaution, it's more than the usual level of concern because Noah has missed so much time over the past year with plantar fasciitis. The two aren't related, but groin injuries tend to be persistent. The good news is it really does sound like something that isn't significant and unlikely to keep him out for any determined length of time. 
Meanwhile, Taj Gibson gets to start off his year guarding Roy Hibbert. Have fun guarding the guy five inches taller than you. 
Show Comments
Hide Comments
He usually does the embarrassing so this checks out

The 2014 third overall pick is "100 percent" and could take the NBA by storm if he's healt...

The Cavs have the opportunity to use the stretch provision on his salary to help with luxury...
It's good to see he can have a sense of humor about his injury history so far

He loves his experience in Rio with Team USA and wants to do it again, if his body is holding...

His role in bringing NBA players to the Olympics changed the international game