John Calipari says Blatt is a better coach for the Cavs than himself
Kentucky coach says new Cavs coach will have no problem adjusting to the NBA.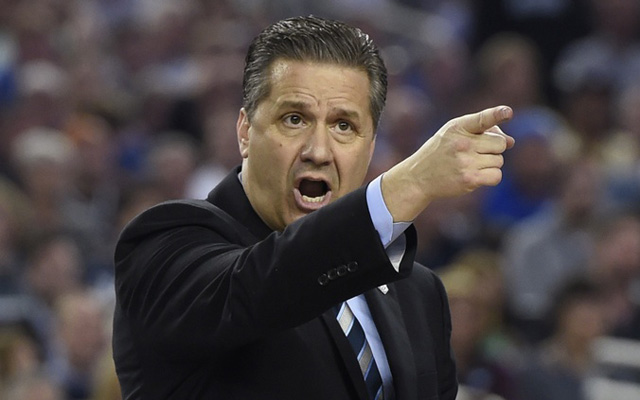 There were rumors throughout the offseason of Kentucky basketball coach John Calipari being courted by various NBA teams, most especially the Cleveland Cavaliers in their pursuit of LeBron James. The Cavs reportedly offered Calipari a 7-year, $60 million deal. Calipari told reporters a few days ago that he wouldn't have taken the gig even if he'd known LeBron James was on board. 
But in a recent interview, Calipari said that Blatt was simply a better coach for the job. 
"David Blatt can really coach," Calipari told Frank Isola and Malik Rose during an interview on SiriusXM NBA Radio. "He's a better choice than me to coach that team. I coached against him. I'm not sitting here just saying it. I coached against him in FIBA basketball. I watched him coach Russia, the guy can coach, OK? Those players, all they want is respect. If they respect you as a coach they're going to play like crazy."

"It's not going to happen in a month, just like Miami," Calipari told the hosts. "It'll be similar to that but they got an outstanding coach, they got the best coach they could get for where they are and what they're trying to do."
via Kentucky's John Calipari says David Blatt is a better choice than him to coach the Cleveland Cavaliers | cleveland.com.
We don't know what kind of coach Blatt is in the NBA, to be honest. He's got a tremendous international reputation. But the differences in international play vs. the NBA are subtle, but important. There's also a lot that comes off the court in terms of handling a different level of ego and a different set of motivations. 
But still, Blatt's level of expertise and knowledge seem, at least at this point, promising. 
And given Calipari's struggle in his time with the Nets, maybe he's right. But given the power Calipari has amassed as a maker of No. 1 picks and his familiarity with the power brokers of the NBA, you'd think he'd do a pretty good job as well. But if Calipari was going to leave Kentucky for the league, you'd think either this position or the Lakers' one which he was rumored to be in the running for, would have been the best opportunities. Will he ever get a better gig than the one Blatt took? 
Show Comments
Hide Comments
The All-Star forward is reportedly interested in re-signing with Atlanta

From the Lakers to the Celtics to standing pat, what the Pacers should do with their super...

This is inexplicable, and inexcusable
LeBron didn't seem to enjoy his first loss of the postseason

A great story doesn't always equal a great pick, and the front office in L.A. needs to do due...

The Celtics guard knocked down the winning 3 with just 0.1 seconds remaining