John Wall frustrated the Wizards are still fighting for their playoff lives
Washington guard John Wall is not happy with his team's standing.
• 2 min read
The Washington Wizards have played 70 games and won half of them. The good news: they're on a five-game winning streak. The bad news: they're still 10th in the East and 1.5 games out of the playoffs. Star guard John Wall is not happy with how the season has gone, via the Washington Post's Jorge Castillo:
"I think about it every day, to be honest with you," Wall said as he strolled to the loading dock at Philips Arena early Monday afternoon following the Wizards' shootaround. "I'm thinking, 'There's no way in hell we should be in this situation. We should already have a playoff spot. We should be done with that.' Now we're fighting for dear life."

…

"I don't like it," Wall said of the Wizards' standing. "Don't matter if I'm averaging 20, 10, and 5, and was an all-star. It don't mean nothing to me."

…

"It's still a failure that we didn't get a higher seed but it's never a failure if you get in because our ultimate goal is just get in the playoffs," Wall said. "We know what our goal was at the beginning of the year, to be a top-four seed, a top-three seed. We failed that part. But just to still be able to get in after the stuff we went through, injuries and then having slow starts and not being defend people, I feel like we can give anybody a run for their money in the playoffs."
That last part is what players on disappointing teams say this time of year. You've heard it from members of the Houston Rockets and Chicago Bulls, too: once the playoffs start, everybody has a chance.
That cliche is true, kind of. Postseason games are different, and a good regular-season record won't save you from a bad matchup. The Wizards, though, are angling for a first-round battle with the Cleveland Cavaliers. Months ago, they would have hoped that facing Cleveland meant a trip to the conference finals. Not a lot has gone according to plan since then, and nothing indicates that Washington would be able to pull off an upset.
I'll defend Wall, though, even if he doesn't want to defend himself. It does matter that he's averaged 20.2 points, 10 assists and 4.9 rebounds. It matters, too, that he's managed to appear in every game for Washington this year. He has clearly established himself as one of the top point guards in the NBA, and he's done everything he can to try to win games. It makes sense that he's frustrated, and he'll be more motivated than ever to avoid being in this position next year. This is an organizational failure.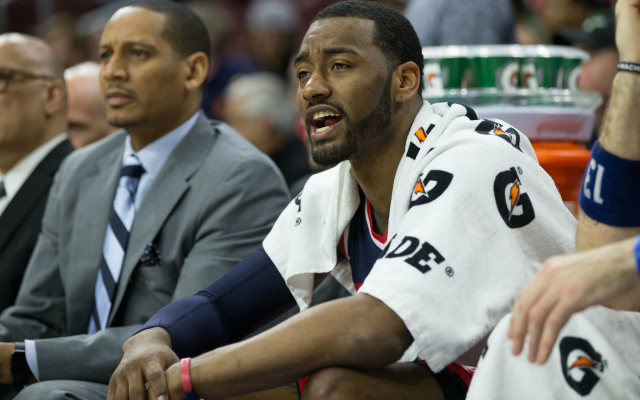 Show Comments
Hide Comments
Our Latest Stories
It's not just a civil suit that Rose has to worry about

The center says he's not exactly asking to be traded, but something must be done

The center signed a max contract in July
The storylines, they are a plenty.

This seems a little extreme, no?

The Pistons coach is pushing his players to register to vote