John Wall knee MRI couldn't be coming at worse time for Wizards
John Wall is the best and only thing going for the Wizards right now, so an MRI on his knee has to be worrisome.
Even though it hasn't been able to get the Washington Wizards over the hump, John Wall's play over the last five weeks has been spectacular. He's putting up close to 20 points and 11 assists every night and just led a big win in Chicago over the Bulls to pull Washington within two games of getting back to .500 basketball. In a season in which small ball hasn't clicked for the Wizards and Bradley Beal has headlined some significant injuries to the roster, Wall has remained the constant source of hope.
That's what makes the news about his plans for Tuesday a little frightening. Jorge Castillo of the Washington Post tells us that Wall has an MRI scheduled for Tuesday. The MRI is to check on a VMO muscle located just above his left knee, which appears to be causing him quite a bit of comfort and pain. The MRI was scheduled prior to the win over the Bulls.
A few hours before leading the Washington Wizards to an impressive 14-point road win over the Chicago Bulls Monday, Wizards point guard John Wall said he is scheduled to undergo a precautionary MRI in Washington Tuesday on his VMO [vastus medialis obliquus] muscle located just above his left knee.

Wall has played through soreness in the muscle in recent games, which he figures is just a bruise and has made bending the knee difficult. He has started and played in every one of Washington's 36 games this season despite various ailments, ranging from a sprained MCL to a sprained ankle to bruised ribs, and doesn't anticipate having to miss time because of the VMO injury.

"I know you're going to deal with nagging injuries throughout the year," the 25-year-old Wall said after the Wizards' victory over the Orlando Magic Saturday. "I'm perfectly fine with that. But it's the ones that – I can't even bend my knee without it being sore. So that's the thing that gets frustrating."
Thankfully, it's just on the muscle above the knee and not the knee itself, but any type of injury or status that takes Wall away from the court could prove to be disastrous for the Wizards. While they're getting closer to .500 basketball, the fact that they're not a winning ball club nearly 40 games into the season is a bit stunning. After their performance in the playoffs last season and their commitment to small ball this off-season, many were picking the Wizards to possibly be the second best team in the East. Instead, they've struggled to the point that we're not even sure they can make the playoffs.
They're currently 11th in the East, two games behind the Orlando Magic for the 8-seed. Having to leap frog Orlando along with Boston and New York could prove to be quite difficult. And even then, getting into the 8-seed just so Cleveland can dismantle you doesn't sound like a very successful season. The Wizards need to go on a run to avoid the 8-seed, and then hope the first-round magic they've experienced the last two postseasons can find its way into their lineup and play once again, catapulting them to at least the second-round.
Beal should be back soon for the Wizards, which would help alleviate some of the stress Wall has on a nightly basis. But the Wizards can't afford to lose Wall for really any amount of games. Washington is still only a minus-0.8 points per 100 possessions with Wall on the floor, but that falls to a minus-7.1 points per 100 possessions when Wall is on the bench. They go from being highly competitive to getting handled pretty easily. Hopefully Wall's MRI gives them answers on the VMO muscle above his knee but doesn't take him away from the court.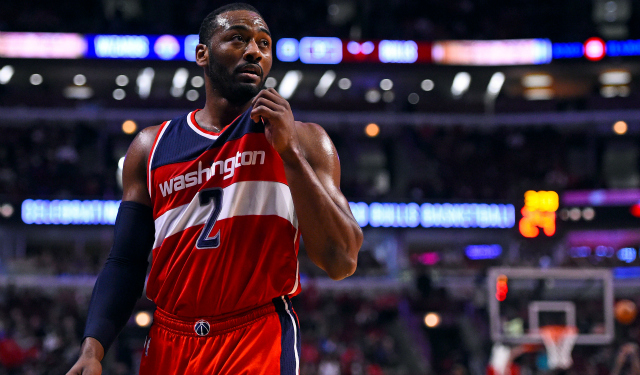 Show Comments
Hide Comments
Our Latest Stories
Blake Griffin has been working on his 3-point shot this offseason

Jason Kidd has John Stockton giving advice to his point guards during training camp

Could Kevin Garnett be helping to coach LeBron in Cleveland?
KD and Klay can't seem to miss a shot for about 75 seconds

The recently retired Kevin Garnett joined Doc Rivers and Clippers for practice on Thursday

They don't need to run necessarily but at least get the offense going much quicker