Josh Smith agrees to four-year, $56-million deal with Pistons
Josh Smith reportedly agrees to four-year deal with the Detroit Pistons.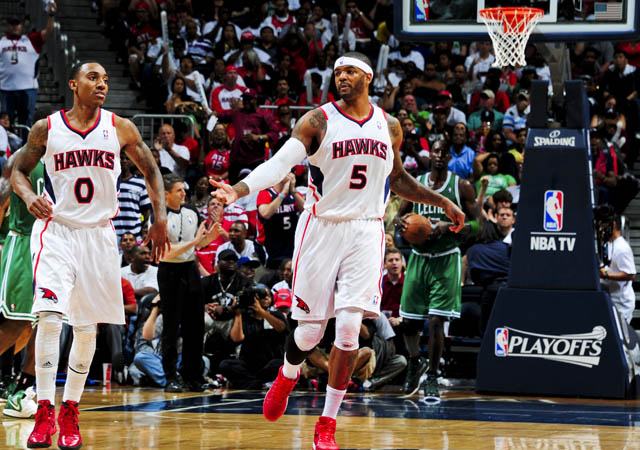 Ken Berger of CBSSports.com confirms a Yahoo Sports report that the Pistons have reached an agreement with free-agent forward Josh Smith on a four-year deal. Berger reports the deal is for $54 million.
The Rockets had shown interest in adding Smith to pair with Dwight Howard, but Smith never reciprocated the interest. It's clear from the signing with a lottery team that Smith is looking for the money. Smith and the Hawks basically had an unstated understanding that he wanted a change of scenery and the Hawks were unwiling to pay top dollar for him. At $13.5 million per year (average), Smith gets the payday he never got with Atlanta, who also never seemed convinced he was the All-Star talent he was portrayed to be. 
The Pistons reportedly want to play Smith at small forward alongside Gregg Monroe and Andre Drummond, which would avoid a concern about a logjam in the frontcourt. The concern here is that it leads to Smith as  more of a perimeter option, which leads to his dreaded jumpshot. I discussed a plan to limit Josh Smith's jumpshot here. Fat chance of that happening here (or ever). 
The problem is the Pistons' spacing could be a mess. Smith is most effective as a post-up three. Lineups with him and Monroe in the same set could be great. But the three big men together could be problematic, especially without a point guard to orchestrate things with Jose Calderon off to Dallas. 
But the Pistons decided it was time to stop sucking, and this moves them forward. He'll instantly be their best perimeter defender, and one of the most versatile players they have. If things work out, they could be tremendous (especially if they nab a point guard). If it doesn't, Detroit's back where it was in 2009 with an overloaded roster of contracts it'll have trouble moving. The Joe Dumars gambles continue. 
Show Comments
Hide Comments
Houston advances, and San Antonio is set up to follow suit after its Game 5 win

This is fuel to the Westbrook haters' fire

How to watch the first-round series between L.A. and Utah
The playoffs are getting interesting

Harden didn't play great, no one could shoot, and the Rockets still rolled to a 4-1 series...

The Cavs and Warriors have both swept their first-round opponents