J.R. Smith says without Rondo, the Celtics 'don't know what to do'
J.R. Smith comments on the chaos on the Celtics without Rajon Rondo.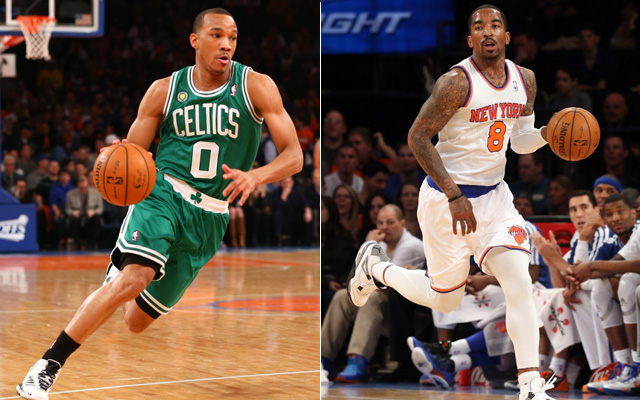 The Knicks are up 2-0 on the Celtics in their first-round series, but it's not really the Celtics. They're missing Jared Sullinger, who would have helped inside on defense and especially on the boards. They're missing Leandro Barbosa who would have brought the advantage of not being Jordan Crawford. 
But mostly, they're missing Rajon Rondo. And J.R. Smith has noted that without Rondo after the Celtics point guard suffered an ACL tear, the Celtics are largely lost trying to run their offense.
"When Rondo is out there, they are in a certain flow," Smith added. "When he is not out there, they sort of don't know who to go to or [what] plays to run. That's a credit to a great player like Rondo. When he is in the game, he seems to know two or three plays ahead of what they want to do."
via Celtics weaknesses leave them helpless against surging Knicks - NBA - Chris Mannix - SI.com.
It's a pretty smart comment from Smith, not just from noting Rondo's talent advantage, but how he's able to put together a way of creating opportunities for teammates ahead of what the Knicks can react to. 
But there's another component badly hurting the Celtics. Without Rondo, the Celtics are forced to assign top-notch defender Avery Bradley to Raymond Felton a lot of the time. When that happens, the Knicks are moving the ball to J.R. Smith (outside of their standard "get out of Melo's way" sets) and he's cooking whoever's in front of him. When the Celtics move Bradley to Smith, the Knicks are having Raymond Felton drive, and he's slicing and dicing between Celtics help. 
The fact is that Rondo's absence is all over this series. The Knicks are clearly, definitively better than Boston. But the Celtics without Rondo have little in the way of finding matchup advantages to close the gap.
Show Comments
Hide Comments
The two best point guards in the East go at it in a series sure to be filled with drama.

Breaking down key matchups as the second season reaches the conference semifinal series

The second round of the 2017 NBA Playoffs tips off Sunday at 1 p.m. ET, with Game 1 of Cel...
The Spurs have homecourt advantage, and will host Game 1 Monday night at 9:30 p.m. ET

All-Star guard flew to Washington after Game 6 vs. Bulls to attend his sister's funeral Sa...

Some love for the Rockets over the Spurs, and at least one expert says the Cavs are going...