Julius Randle: Foot surgery 'never been considered'
Draft prospect Julius Randle of Kentucky denied the report that he would need foot surgery.
• 2 min read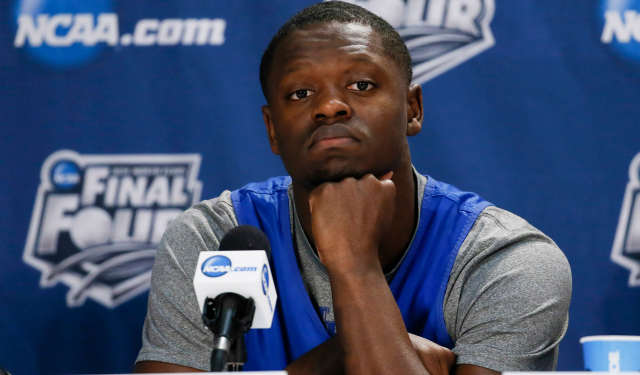 More Offseason Analysis: Coaching changes, news | Free Agency | Draft
NBA Draft prospect Julius Randle worked out for the Boston Celtics on Friday and denied the report that he needs foot surgery, telling reporters that there is nothing wrong with him.
Randle on today's workout: "No pain before, during or after. I'm fine."

— Mark Murphy (@Murf56) June 13, 2014
More Randle: "(Surgery) has never been considered. I met some of the best surgeons in the world and they said they wouldn't do anything."

— Mark Murphy (@Murf56) June 13, 2014
Julius Randle on his foot: "My foot is fine, everybody has their opinion on what they should do. But I'm pain-free."

— Chris Forsberg (@ESPNForsberg) June 13, 2014
Julius Randle: "I wouldn't be working out if I needed surgery." Added, "Nobody has said that I needed surgery."

— Baxter Holmes (@BaxterHolmes) June 13, 2014
The report, by Yahoo Sports' Adrian Wojnarowski, asserted that the forward out of Kentucky would have to miss six to eight weeks and skip summer league. Shortly after it was published, Randle's mother denied it and he tweeted about it:
I never do this but it was brought to me and it's crazy how people put stories out there and have no clue what they are talking about.

— Julius Randle (@J30_RANDLE) June 12, 2014
No disrespect but check with the actual source next time before you put something like that out there @WojYahooNBA

— Julius Randle (@J30_RANDLE) June 12, 2014
Wojnarowski reiterated that teams think surgery is necessary, and ESPN's Jeff Goodman said a similar thing on Friday:
Multiple teams considering Randle in and out of draft lottery have his medical info and expect him to have surgery on foot. It is an issue.

— Adrian Wojnarowski (@WojYahooNBA) June 12, 2014
NBA teams are worried that Randle failing to undergo a relatively minor procedure this summer could leave him open to major problems later.

— Adrian Wojnarowski (@WojYahooNBA) June 12, 2014
Regarding Julius Randle: Multiple teams worried about his foot being an issue down the road. Feel it did not heal correctly.

— Jeff Goodman (@GoodmanESPN) June 13, 2014
It should be noted that the original story did not state that Randle was in any pain, nor did it say this should or would affect his draft stock. When he broke his right foot as a senior in high school, "there was a screw placed into his foot that needs to be removed," according to Wojnarowski. It appears Randle is in damage-control mode, but this was never described as a major issue to begin with. Let's not freak out about it.
Rose, who spent last season with the Knicks, may soon be off the market

Wilkins last played in the NBA in the 2012-13 season, and has bounced around since then

McCollum has been leading the charge, attempting to talk the Knicks star into playing for...
Ginobili recently agreed to a deal to return to the San Antonio Spurs for a 16th season

Chicago fans are investing their money in the attempt to get Gar Forman and John Paxson fi...

Rajon Rondo will be re-uniting with DeMarcus Cousins for at least one season