Kareem doesn't think LeBron compares to Chamberlain, Russell
Lakers great criticizes James' assessment of himself as an all-time great based on the accolades of players from far different eras.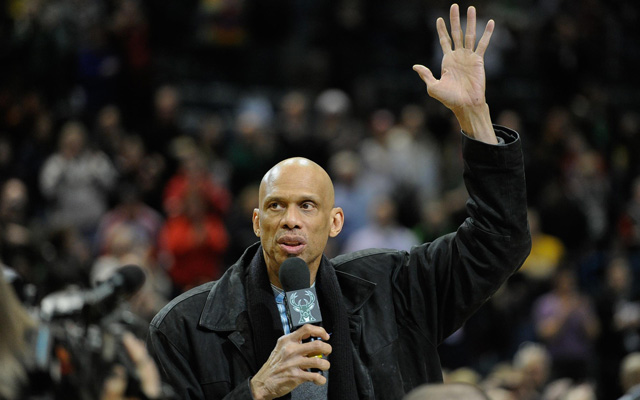 More NBA: Power Rankings | Expert Picks | Latest news, notes
Kareem Abdul-Jabbar told the LA Daily News that LeBron James shouldn't put himself on the list of the greatest of all time until he has the accomplishments of Wilt Chamberlain or Bill Russell: 
LeBron James was talking about how he's the best ever, but he never saw Wilt play," Abdul-Jabbar said. "If he had, he wouldn't say that. Whenever he averages 55 points a game, then I might want to listen to what he has to say. I'm not trying to put LeBron down. He's awesome. He's the best player in this era at this point. But he didn't see Bill Russell play. When his team wins eight consecutive NBA championships, maybe I'll compare him to Bill Russell."

Where does Abdul-Jabbar rank himself?

"As long as I'm in the discussion, that's fine with me," said Abdul-Jabbar, who also won three national championships at UCLA. "That's not something I get excited about it, but I do feel I belong in the conversation."
via Kareem Abdul-Jabbar shows interest linking with Milwaukee Bucks ownership group.
That's how a lot of people feel about LeBron, because understanding the complexity of comparing eras isn't something a lot of people can get into. Pro Basketball Talk did though, and makes some good points on the matter: 
Yes, Chamberlain scored 50.4 points per game in 1961-62 (shy of the 55 Abdul-Jabbar credits him for) – in large part (literally) because he was ahead of his time. In his first season, the NBA had only one other 7-footer, Walter Dukes. Only one season in Chamberlain's career did more than half his opponents have a single 7-footer.

Now, there are 40 7-footers in the NBA.

LeBron has a tremendous physical advantage over his opponents. His combination of size, speed and agility is unmatched in NBA history. But it doesn't compare to Chamberlain's advantage.

Russell too had a era-related advantage. During his run of eight straight titles, there were eight or nine teams in the NBA. Now, there are 30.

Beating a field of 30 for a championship is, all other factors equal, more impressive than beating a field of eight or nine.
via Kareem Abdul-Jabbar: LeBron James not on the level of Wilt Chamberlain or Bill Russell | ProBasketballTalk.
Chamberlain's stats-centric approach also garnered him substantial criticism both at the time and in retrospect. He was thought of as always being too worried about numbers. Russell, meanwhile, played in a league that is almost nothing like today's NBA outside of the idea you should put the round thing in the little circle with the net attached. Russell's impact was almost entirely on the defensive end and he was playing players who aren't close to what today's athletes have in their bag. 
That's not to take away from those players and what they accomplished, but if you want to put caveats on greatness, everyone's got them. Even, Abdul-Jabbar, who many criticized for his toughness, wilingness to take defensive matchups that would wear on him, and prickly personality. Everyone has things critics have used to take them down. The easy answer is they were all great players. 
HT: PBT
It appears Wall will be staying in Washington for a long time

Apparently James wasn't aware that Kyrie was considering a change of scenery

The Knicks reportedly have interest in the Cavs star, but do not want to give up their uni...
The Knicks, Spurs, Timberwolves and Heat are reportedly his preferred teams

Altman has been serving as the Cavs' assistant general manager under David Griffin

It was a calm Friday in the NBA world ... and then it wasn't