Kawhi had championship trophy for 3 days, it spent 2 in his condo
Finals MVP Kawhi Leonard didn't take much time to bask in the Spurs' success.
• 1 min read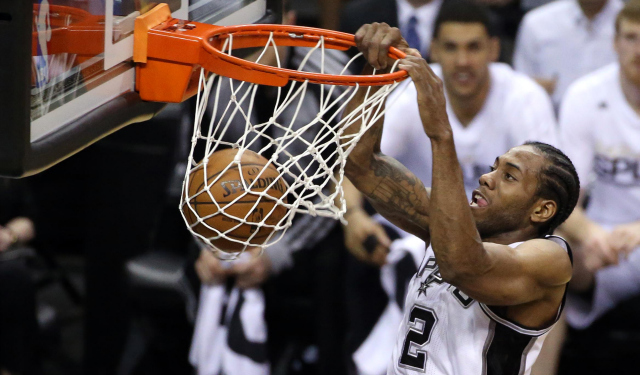 Offseason: Free Agency | Latest from Ken Berger | Rumors
Finals MVP Kawhi Leonard isn't one for excessive celebration. Sure, he had a rare emotional outburst after winning that award and the NBA title back in June, but it's common knowledge the San Antonio Spurs forward is easily one of the quietest guys in the league. It follows that, when he had the Larry O'Brien trophy in his possession this summer, he didn't do a whole lot with it, via U-T San Diego's Mark Zeigler:
He had it Thursday, Friday and Saturday, and he arranged for people to take pictures with it at his annual skills camp for youths last weekend in his hometown of Moreno Valley.

And Thursday and Friday?

It sat in the living room of the San Diego condominium he rents during the offseason while the Spurs staffer who chaperones the trophy around the world lounged at a UTC hotel pool … while Leonard was at his three-a-day workouts.

"I didn't have any time to do anything with it," Leonard explained. "My workout schedule is crazy."

…

"He's still the same, quiet, shy guy – just always in the gym, always wants to be in the gym," says D.J Gay, the point guard during his two years at SDSU who directed the drills at the one-day camp for 80 kids from Moreno Valley and Riverside. "I asked him if he had any time to have fun. He said, 'I had a little fun when I came back (to California), but now I'm back in the gym two or three times a day.'
There are some other interesting nuggets in the story -- the Spurs have hired Leonard's best friend, Jeremy Castleberry, as a video and player development guy, and Leonard is looking for a new place in San Antonio after sharing a house with his mother for his first three years in the league. You should really read the whole thing. You'll see Leonard is who we thought he was. 
Jared Sullinger wants back in the NBA; he knows his weight will play an important part

Cleveland is one of Rose's biggest suitors, and the Irving situation could lead to an even...

Five years later and Celtics fans continue to throw shade -- Allen later deleted the comme...
Irving has a desire to team up with Butler dating back to June

Apparently, Irving first asked to be traded in June in hopes of joining Jimmy Butler in Ch...

Despite Melo being a good trade piece for the Knicks on paper, he has his sights set on joining...