Kendrick Perkins, J.R. Smith compare LeBron James to Michael Jordan
Cavaliers center Kendrick Perkins says that, if LeBron James wins a couple more championships, "it's a wrap."
• 2 min read
LeBron James will never escape Michael Jordan comparisons. They're completely different players physically and stylistically, and the game has changed since the former superstar reigned supreme. Twelve years into James' career, though, we're at the point where you can make an argument that James is superior. His Cleveland Cavaliers teammates Kendrick Perkins and J.R. Smith weighed in on the matter Sunday, via the Cleveland Plain Dealer's Chris Haynes:
"The only thing that he's missing is a couple more championships and then it's a wrap," Kendrick Perkins told Northeast Ohio Media Group. "Right now we have arguably the best player to ever play the game. I'm just saying man. I'm not taking anything away from Jordan, but all he's missing is titles. A couple of more titles and that's it."

…

"That's one hell of a debate. Honestly, in my opinion, if it's not Jordan then it's him," J.R. Smith told NEOMG. "It used to be no question. It was a landslide. It was Jordan. Now, you have to consider my boy."

…

"Just think about it, truthfully, if he wanted to, he could win the MVP every year," Perkins said. "Think about that. He averaged 25 [points], 6 [rebounds] and 7 [assists]. That's absurd, and people are like 'he had a down year.' That's crazy talk. When it's all said and done, he'll probably be the best the game has seen."
Miami Heat president Pat Riley used to call James the BOAT (best of all time). There's never been a player who has combined his size, strength, speed and basketball IQ. To me, there's no debate about who the best shooting guard of all-time is -- that's Jordan. James, though, was once described by ESPN's Tom Haberstroh as a hybrid of Shaquille O'Neal and Steve Nash. That is accurate even though it seems impossible, and a player like James would have sounded completely alien if you tried to tell a scout about him in Jordan's era.
It's an open question as to who is the better player, and the debate might go on forever. What's interesting is that current players -- yes, they're James' teammates, but still -- are now acknowledging that it's close. A lot of these guys grew up watching/worshiping Jordan, and saying anyone else was the best ever used to seem like sacrilege. That is changing and will continue to change. Devin Booker, a likely lottery pick in June, was born in October of 1996 -- Jordan's Flu Game was four months before his first birthday.
Most players would still likely put Jordan at the top of the list, if only for the simple fact that James has two NBA championships compared to Jordan's six. If James wins another title this year or next, expect plenty more discussion on this topic.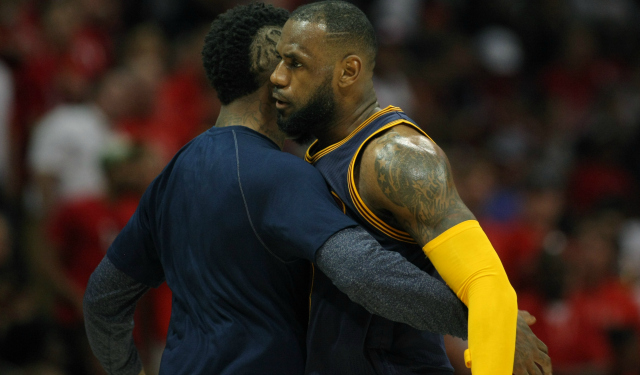 Show Comments
Hide Comments
Thunder fans used the term 'cupcake' in reference to Durant after he left OKC in free agen...

There appeared to be some wishful thinking on the part of Charlotte general manager Rich C...

Thompson is one of the best shooters in the league, but it appears dunking isn't his speci...
Cuban was willing to part ways with employees who leaked ahead of the official announcemen...

Draymond wasn't mad about the move, though. He was mad about the way he heard about it

All-Star forward was sent from the Bulls to the Timberwolves on draft night