Kevin Durant being sued over 'Durantula' nickname
According to TMZ, Kevin Durant is being sued by 80s rock guitarist Mark Durante for "stealing" the Durantula nickname.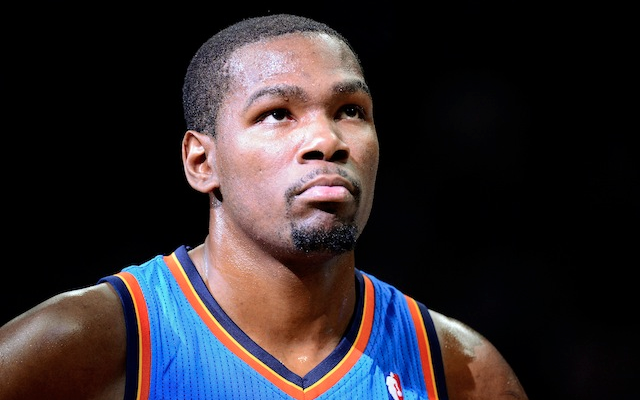 Don't call him Durantula.
(Getty Images)
There's only one Durantula and evidently, some guy that most of us have never heard of claims it's him.
According to TMZ, Kevin Durant is being sued by '80s rock guitarist Mark Durante for "stealing" the Durantula nickname.
TMZ obtained a copy of the lawsuit, in which Durante says he adopted the name "Durantula" for his "on-stage and performance persona" -- and has used it to market "music, recordings, apparel, t-shirts, guitars, and related merchandise."

Meanwhile, sports fans have adopted the handle for the Oklahoma City Thunder star and current NBA scoring champ.

Durante claims he sent KD's people a couple letters "demanding they stop using the nickname" -- but says Durant's reps claimed he wasn't using it.

In the suit though, Durante claims Nike has used the moniker to launch a shoe campaign -- and KD himself signed "Durantula" on basketballs that are for sale through his website.

The guitarist says he registered the "Durantula" trademark. He's suing for damages and an injunction stopping KD from using the name.
It's a nickname Durant has always said he doesn't even really like, and he's never actually embraced the name. The nickname originated from The Basketball Jones, when it was recommended to them by basketball writer Rob Mahoney.
Still, there's been merchandise sold with it, including Durant's No. 35 jersey with "Durantula" on the back. Durant himself hasn't seemed to taken part in much of the Durantula stuff, but I guess since people came up with a nickname for him, it's all his fault.
But this is definitely what Durant needs on his brain right before he plays in the biggest game of his life. Wondering how a lawsuit against a nobody rock guitarist from the band The Revolting Cocks is going to turn out. Good timing on this lawsuit, Mark "Durantula" Durante.
Shaquille O'Neal certainly knows how to bring attention to himself

Warriors, who are not leaning on taxpayers for the arena, plan to pay back the fee after 30...

In a documentary short, Redick explains part of the reason he left the Clippers for the 76...
The Cavs are reportedly nearing a deal with Rose, but the Lakers will try to persuade him to...

The former NBA All-Star launched a successful second career overseas

Tom Thibodeau confirmed locking up Wiggins is the next step for Minnesota after a busy sum...