Kevin Durant says he was too obsessed with winning last year
Thunder All-Star says he got away from the fun of the game and let winning 'overtake' his mind.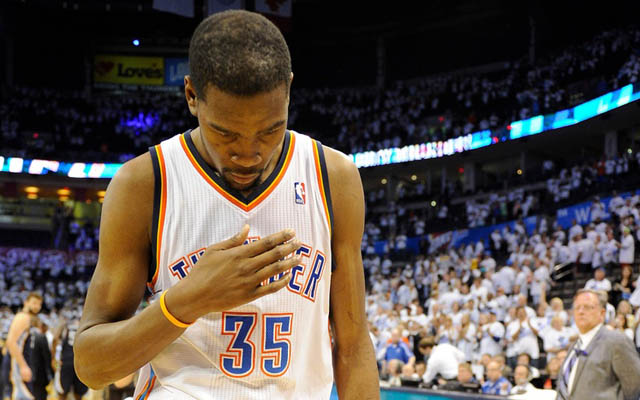 Last season, Kevin Durant dealt with expectations coming off losing the Finals, being without James Harden for the first time, and got a glimpse of what playoff life is like without star help when Russell Westbrook went down. He had a phenomenal season, scoring the most points overall in the NBA while shooting over 50 percent from the field, 40 percent from the arc, and 90 percent from the line. It was a tremendous season, but one that seemed harder on him personally. 
In an interview with The Oklahoman, Durant talked about last season, and admitted that he became "obsessed" with winning. 
"Last year, I was obsessed with it," Durant said of winning a title. "Like, I wasn't going to sleep because I wanted to win so bad. I was screaming at my teammates, at the refs, at the coaches. I got mad because I thought 'if we have a bad game here, we're not going to win a championship.'"

That edge, Durant said, is part of the reason he was uncharacteristically whistled for 12 technical fouls last season — matching his combined total from his five previous seasons.

"So I'm not going to let that overtake my mind," said Durant of his championship chase. "I mean, of course I want to win it, but I'm not obsessed with it. I'm going to put in the work to help my team, but I'm not going to be obsessed with it because that's when I compromise myself, and most of the time it doesn't work out."

"Maybe it's not (a bad thing)," Durant said of the obsession. "But for me, it was just, like, I wasn't enjoying it no more. It was more like a job more than just going out there having fun playing the game. I never want to lose the love. Once you lose love of something and you make it into a job then …"

"Like, for me, when I was coming in I was like "If I miss a shot, I'm going to miss this shot in Game 6 of the Finals,'" he said. "'If we don't play defense this game, we're not going to play defense in the Finals.' Like, I was thinking like that. And I was going home and I would get so mad over small stuff. That's not me. So I was losing myself over what people thought, what other people thought."
via Oklahoma City Thunder: Kevin Durant taking new approach after spending last year obsessed with winning a title | News OK.
That approach that Durant describes is exactly what made Michael Jordan great, it's what makes Kobe Bryant great. So we tend to want to ascribe it as the model for Durant. But Durant is neither of those players. He's his own man, with his own approach to the game, and he's always been team first. He honestly has a point guard's soul in a small forward's body.
But while Durant is a great rebounder and good passer at his position, his best talent is his lethal scoring ability. Should the best pure scorer in the league want to take a step back in intensity? If this were a friend or coworker, I'd say it's a good thing, that he'll be happier. But will it help him reach his goal? Doesn't the Thunder need him to be more Napoleon and less some-other-political-figure-who-compromises? 
A lot of what Durant says echoes what LeBron James said after the 2011 season. But James' game is based on so much more of a versatile approach, so much more on making his teammates better. Durant does that, too, but does that really speak to his best strength, which is being able to take a game over offensively like no one else in the league?
We'll see how this shift in approach affects him this season. Maybe it's one of those things where a happier employee is a more productive employee. But nonetheless, you can expect the peanut gallery to go berserk over what will be perceived as a lack of desire to do anything to win on Durant's part. Perspective is just not something our society values in its superstars. 
Stevens was trying to take Hayward and his wife to their hotel

Darius Miller got a whole lot of hype from a case of mistaken identity

Richard Jefferson understands why Kyrie Irving would request a trade
Versatile forward is accused of assault, battery and making misleading statements

The asset-heavy Celtics are keeping their ear to the ground when it comes to Kyrie Irving

Weighs in on a potential trade story like Kyrie Irving situation is unusual for a commissi...