Kevin Durant to Warriors or Clippers apparently becoming more realistic
We know the Warriors are interested in Kevin Durant, but the Clippers are reportedly looking his way as well in free agency.
A story that has tailed off since the summer but still looms greatly over the future of the NBA is the upcoming free agency of Oklahoma City Thunder star Kevin Durant . In a similar way to the impact LeBron James had on the outlook of the league back when he was a free agent in 2010 (and to a lesser degree 2014 as well), Durant holds the talent and stardom to change the fortunes for every single franchise in the league. That even holds true with the dominant Golden State Warriors , who have treated the past year and a half like an extended shootaround.
Adrian Wojnarowski of The Vertical is reporting that while Durant has made no indications of leaning toward leaving the Thunder, the Warriors are significant frontrunners to land him if he does decide to leave OKC. He is expected to fully immerse himself in the recruiting process of free agency when July 1 comes along.
The Golden State Warriors' plan of pursuit predates their 2015 championship run, a bold plot to declare the futility of resistance. It isn't only that the NBA champions are determined to recruit Oklahoma City's Kevin Durant, the truth is that they're the most intriguing destination to him. If Durant leaves the Thunder, the Warriors are the significant frontrunners to sign him, league sources told The Vertical.

Make no mistake: Durant isn't close to gone in Oklahoma City – no decision, no leaning, sources said – but the real threats on the summer market are beginning to reveal themselves. Durant is determined to win – to be an immediate championship contender at 27 years old – and that keeps bringing him back to the Warriors should he make the decision to leave Oklahoma City.

Outside of a Thunder championship closing down the process before July 1, there's a strong expectation that Durant will hit the road, tour campuses and become a recruit again.
The idea of the Warriors pursuing isn't necessarily new.
The now seemingly below market value contracts for  Stephen Curry , Klay Thompson  and Draymond Green with the salary cap jump have made this almost a perfect storm of opportunity possible for Warriors GM Bob Myers. It would likely mean trading away Andre Iguodala and either stretching (waiving a player while reducing salary cap impact immediately and spreading it over several years) or finding new homes for Andrew Bogut and Jason Thompson . They also would have to hope Festus Ezeli doesn't get a huge contract offer in the restricted market, and then say goodbye to Harrison Barnes in restricted free agency, likely renouncing his rights altogether.
Outside of the particulars, the biggest details are 1) Durant wanting to leave Russell Westbrook and the Thunder, and 2) making sure someone else doesn't convince Durant to sign outside of Oakland or Oklahoma City. Wojnarowski also dropped this nugget that the Los Angeles Clippers could be thrown into the serious suitors category. They would be able to dangle the carrot to the Thunder of a sign-and-trade of Durant in exchange for Oklahoma native Blake Griffin .
Outside of those well-known suitors – Washington, Houston and Miami – there's another California team determined to make a bid for Durant, league sources tell The Vertical: The Los Angeles Clippers. If the opportunity comes to move Blake Griffin and replace him with Durant, the Clippers won't hesitate, sources said.

Teams are calling on Griffin trades now, but Clippers president and coach Doc Rivers seems determined to play the year out with Griffin and see how far the team advances in the playoffs. Eventually, the Clippers will determine how intrigued Durant might be in becoming a Big Three with Chris Paul and DeAndre Jordan .

The Thunder would resist a sign-and-trade deal until the very end – until they were sure Durant was leaving them – but Griffin, an Oklahoma native, could be fascinating part of that scenario.
This is the new wrinkle into the pursuit angle. A lot of people seem to believe Durant will sign a one-year max deal this summer and then head into 2017 free agency with the possibility of making even more money and knowing the plans of Westbrook when he hits free agency. But if Durant does decide to leave the only franchise he's played for this summer in 2016 and the Thunder realize they're losing their player, ending up with Blake Griffin as a superstar to convince Westbrook to stay in OKC is a pretty great consolation prize.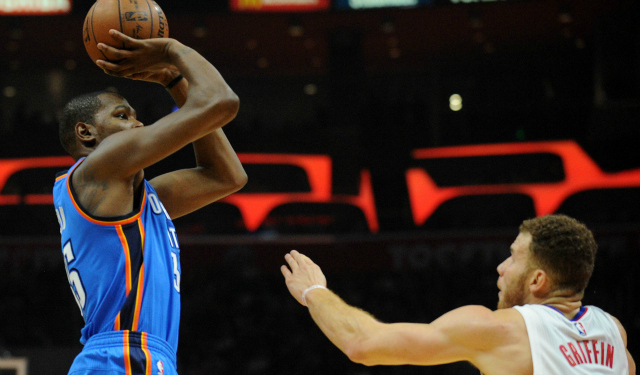 Show Comments
Hide Comments
Our Latest Stories
It's between him and Patrick Patterson and it's Sullinger's to lose

Heat forward continues comeback efforts but without long-time representative Leon Rose

Longtime GM says team has to win more than 17 games but there are no real standards for im...
Former Bull won't respond to comments he is no longer a 'frontline' player.

The staff at the Q will get some championship bling

The Trail Blazers look to improve on last year's success