Kevin Garnett on why he didn't greet Ray Allen last night
When Ray Allen checked into the game on Tuesday night, he went over and tried to say hello to the Celtics. Kevin Garnett explains why he didn't acknowledge him.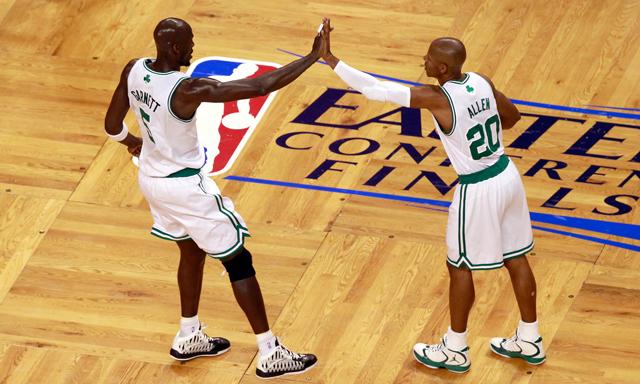 Old buddies in the old days, but not so much these days.
(Getty Images)
Tuesday night, Ray Allen went over to the Celtics' side of things and decided to give everybody some dap as he checked into his first game with the Miami Heat. He gave assistant coach Kevin Eastman a hug, shook the hands of other assistant coaches and then gave Kevin Garnett a pat on the shoulder.
So why didn't KG return the acknowledgment? Gary Washburn of Boston.com had this:
Garnett was asked why he passed on greeting Allen: "You know what man, I was just trying to stay as neutral as I could but obviously I'm an intense person. Other than it was blank, I just saw the Heat uniforms and obviously he's on the other side and I just tried to play the game, man."
Garnett is very intense. You can find absolute treasures when going through Google Images of him just staring at the stanchion in a menacing manner. Even when he was in Minnesota, his first few jumpers were fired too hard in playoff games because his adrenaline was pumping so intensely. 
It wouldn't surprise me that KG would be this way in Game 1 of the new season, especially going against the Heat. And don't forget that he apparently no longer has Allen's phone number.
I'd imagine the next time these teams meet, Allen will get a little bit of a warmer reception from his former teammate. Things seemed to go fine on the court once everything settled down. 
Show Comments
Hide Comments
Will Iggy stay in Golden State? Does anyone have any idea what to do with Derrick Rose?

Hoiberg was asked about Isaiah Thomas possibly carrying the ball during Game 5

Celtics point guard does not need anyone to hype up his defense
The Bulls had it, they had it ... and ... it's gone

The Bulls found they were without hot water following their Game 5 loss

Wall finished with 20 points and 14 assists in win over the Hawks