Kevin Garnett, Paul Pierce to return Sunday night vs. Wizards
Garnett, Pierce, Bradley back for Celtics Sunday.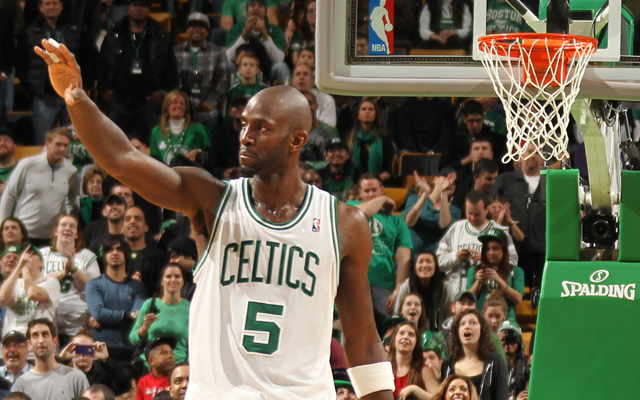 The Celtics announced Sunday that Kevin Garnett and Paul Pierce will return from injury vs. the Wizards. 
Garnett has missed several weeks with inflammation in his foot, Pierce the last few games after the birth of his son and then dealing with a sore ankle as well. Avery Bradley will also return Sunday. The Celtics are trying to secure a high as fifth in the Eastern Conference playoff standings. 
There was some concern because of the ambiguous nature of Garnett's injury and the team's obscure nature of clarifying what it was, but the Celtics will instead get him back with two weeks to go before the playoffs. It's good timing, as the Celtics, already decimated by injuries to Rajon Rondo and Jared Sullinger, have badly needed their stars. They lost to Cleveland the other night and have been relying on Shavlik Randolph, Terrence Williams, and Jordan Crawford. 
No, seriously.
We'll see how many minutes KG gets and how he looks in his first game back, but at least the Celtics are back to as full strength as they're going to get this year. 
Chris Paul is going to the Rockets so what does this mean for the future

Is this the start of a new era for the Clippers?

The addition of Paul makes the Rockets a bigger threat, but they're not even close to a fa...
Houston now has to figure out where CP3 fits next to James Harden in Mike D'Antoni's syste...

On Wednesday morning, the Rockets swung a deal for All-Star point guard Chris Paul

Paul vaults the Rockets up to a nearly even tier with the Celtics, but everyone is still chasing...