Kevin Garnett rebuffs Jason Kidd's effort to restrict his minutes
Nets forward says he won't accept coach's suggestion at minutes limitation, preferring to develop chemistry and compete for a championship.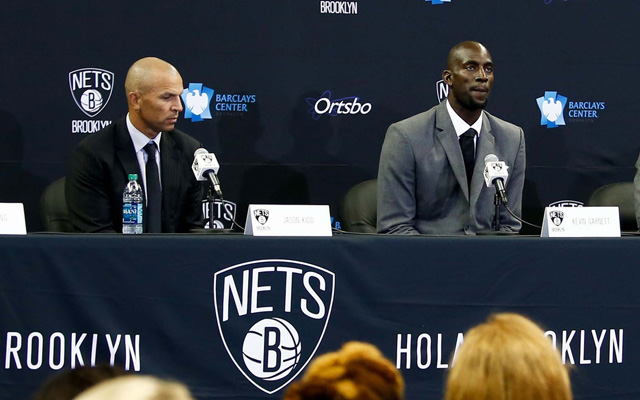 Players are prideful. Great players, even more so. And then there's Brooklyn Nets forward Kevin Garnett, raving lunatic future Hall of Famer. He's got his own ideas when it comes to who he is, how he plays, and, as it turns out, how many minutes he'll play. Coach Jason Kidd (yup, still weird) has said that there would be steps taken this season to save KG's body, including not playing on back to backs. Apparantly he also said that he wanted to cut down on Garnett's minutes. 
That... did not go well. From USA Today: 
"It didn't go too well," Garnett said. "I understand what he's saying. He just wants to make sure I'm durable. ... I just don't want to be told anything. I think I've earned the right to have an opinion on something that I'm doing. From a chemistry standpoint, I think it's important for me to be out there with everybody."
via Kevin Garnett says a ring is only reason he's in Brooklyn.
This is the kind of prototypical Garnett stuff that makes you want to ruffle his non-existent hair and say "You crazy little Ticket, you." You know, before he bites your face off. But it's also denying the reality of the situation. 
Garnett was a step behind last season. His on/off numbers with the Celtics, particularly defensively, were still stellar, but that's in part a testament to how bad the Celtics were and how good the defensive system was with players that know how to execute it. It's mostly a sign of how good KG still is, but it also doesn't change the fact that Garnett was a step slow on rotations, unable to contest at the rim as easily, rougher with his footwork. It's not a drop off a cliff, it's the slow degrade of sharpness in his actions. 
He needs the rest. 
Garnett can still be a leader for a championship-caliber team. He can still be the leader and floor general for Brooklyn. But he needs to listen to his coach. He's got to pace himself, whether he likes it or not. 
That said, KG can talk about this all he wants. He's also been a part of a Celtics team that has coasted through three-quarters of the season he past four seasons. He knows the game, whether he likes it or not. 
Show Comments
Hide Comments
The Bulls guard fielded questions about his future during exit interviews on Saturday

The two teammates were still up playing at 4 a.m.

Clippers point guard helped make sure Pierce's career would last at least one more game
The Celtics star coach looks ready to take the throne as one of the great coaches in the l...

Utah couldn't clinch at home, and the Clippers live another day

The Celtics coach appeared to be upset when the chants broke out