Kevin Garnett says back is improving, hopes to return 'soon'
Brooklyn Nets' big man Kevin Garnett has missed 10 straight games due to nagging back spasms, but it's improving and he hopes to return soon.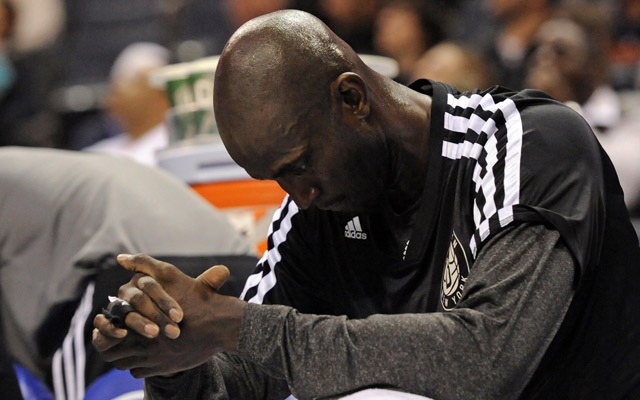 It's been 10 games since the Brooklyn Nets had Kevin Garnett in the lineup for them. He's been dealing with back spasms that have kept him from playing since February 27, and we still don't know if he's coming back any time soon. The Nets have survived without him during this time by going 8-2, but they'll need him in the playoffs if they're going to be able to push into the second round to meet either the Pacers or the Heat.
Andy Vasquez of the Bergen Record tells us Garnett talked for the first time in a while since the injuries and while he isn't back yet, he does say the condition is improving and he hopes to return "soon."
Garnett has missed 10 straight games with back spasms. This afternoon, the 37-year-old spoke for the first time since his ordeal began on Feb. 27, when he tweaked his back in a win at Denver. Garnett said that his condition went "downhill" sine then, but over the last five days he's been "improving." He hopes to return "soon."

"The most frustrating part about this is that you just can't push through this," Garnett said, speaking to reporters for the first time in more than three weeks. "The back … deals with the legs, the lower part of your body, the core, your hand movements, your breathing, a lot of it comes into play.

"So it's not like an ankle where I can muscle through it, or a knee or an arm, neck, something. This is damn near your [entire] body, and I have a whole new respect for the body."
Garnett watched Andrei Kirilenko go through a similar ordeal earlier in the season. Kirilenko has helped Garnett learn how to deal with an injury he's never really experienced before. It's not something you can tape up and play through because it debilitates so much of your movements, as KG notes above. 
In his first season with the Nets, Garnett is averaging the lowest point total of his career (6.7) and the second lowest rebounding total of his career (6.7). He's played in 49 of the team's 66 games and is averaging just 21.0 minutes on the floor. 
The 24-year-old swingman will become an unrestricted free agent

The youngster hit Oladipo with a nutmeg during a one-on-one game at Oladipo's camp

The Cavs will be looking to upgrade their squad after their Finals loss to the stacked War...
Denver is reportedly also in talks on a three-team trade that would send them Kevin Love

Barclays Center hosted the BIG3's inaugural slate of games on Sunday, with The Answer as a...

Pierce was drafted 10th overall by the Celtics in the 1998 NBA Draft