Kevin Garnett struggling in start of new era in Brooklyn
Nets forward KG has been bad at both ends of the floor. What will it take to get himself right?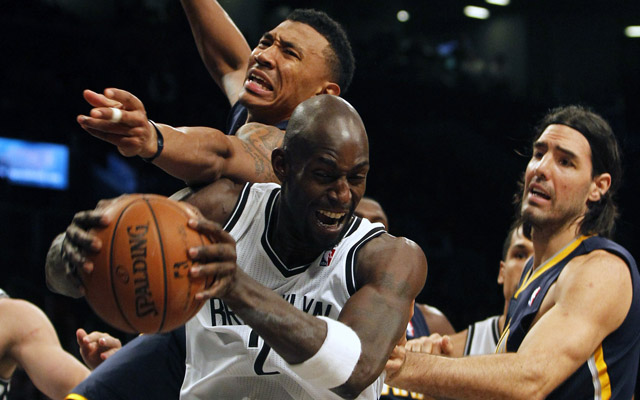 The Brooklyn Nets are 2-4 and like the New York Knicks, look wildly disappointing compared to preseason expecatations. They added so much firepower to an already cost-inefficient roster, that they were expected to storm out of the gates and take the league by storm. In particular, the additions of Kevin Garnett and to a lesser degree Paul Pierce were expected to revamp their defense. 
While there have been many issues for Brooklyn, including Deron Williams' ankle and starter production overall, the most concerning issue has been with Kevin Garnett. Nets blog The Brooklyn Game broke down the troubles with the man they call KG:
Here's the kicker: of players who have played in 2+ games and averaged 20+ minutes in those games, Garnett's 33.1 true-shooting percentage is the worst in the NBA. If Synergy's play-charting methods are more your style, he's scoring at a rate of .562 PPP, good for the eighth percentile league-wide. Not only have the Nets not improved their offensive output from the starting power forward position this year, it's also become pretty much the worst.

The Nets are 6.3 points per 100 possessions better on offense (101.6 vs. 95.3) when Garnett is on the pine. That's not exactly the kind of championship fine-tuning Brooklyn had planned when they made the trade this summer.

On the bright side, there's just no way he can possibly continue at this alarmingly bad clip. Garnett was a 46.6 percent midrange shooter from 2010-2013, so there is an uptick coming. There must be. It's a matter of when, not if. I hope.

Yes, Garnett — champion of rotations, lord of barking, duke of hedging pick-and-rolls — has been nothing more than a jester on the defensive end of the floor. Garnett has been noted extensively for his legendary influence on Boston's defense over the last six years, conducting a symphony of despair and rejection for anyone unfortunate to visit TD Garden Theatre. Maybe there hasn't been enough time for the Nets to adjust to new defensive schemes, maybe he has finally gotten too old, or maybe he's newly suffering from a rampant body odor problem. Bottom line: it hasn't worked early with Garnett on the floor.

According to NBA.com, Brooklyn has allowed 107.6 points per 100 possessions with Garnett on the court. If you extrapolated that rating to the whole team, they'd be tied with the Sacramento Kings for the worst defense in the NBA. With Garnett on the bench, the team's defensive rating plummets to 96.6 points per 100 possessions. Extrapolate that and the Nets are tied with the Minnesota Timberwolves for the sixth-best defense in the NBA.
via Six Things We've Seen From The Brooklyn Nets, Part I: The Struggles of Kevin Garnett » The Brooklyn Game.
Numbers are part of the equation, the eye test is certainly worth some input as well. And it's not good. I've seen Garnett dominated inside, tosssed aside like loose cardboard by Nikola Vucevic and Nene. I've seen him slow to rotate, and airball turnaround jumpers. He looks nothing like himself, nothing like the force of nature he's been in this league for eighteen years. 
Maybe he'll work himself out of this. Maybe it's just about the comfort level with teammates and being in a new environment for the first time since 2007. Maybe he's working through an injury he's not letting on. 
But Garnett is 37. The end is nigh. The Nets need him to stave off that finale for as long as possible. They gambled quite a bit on him this summer in the hopes it would translate to greatness. Instead Garnett looks for the first time like just another veteran forward out there. Sometimes, it just goes. 
But we're not ready to count Garnett out. Mostly because we're terrified of him. 
Newest Brooklyn Net isn't concerned with his old organization's leader

The diminutive All-Star was among the league's worst defenders during the 2016-17 season

We've seen huge favorites before, but this is something else
Buddy Hield and Willy Hernangomez round out the first-team selections

Chris Paul and Patrick Beverley complete the first team

Allen Iverson is someone Tyronn Lue would want on his coaching staff