Kevin Johnson calls out Maloofs in letter: Honor our 'handshake' arena deal
Sacramento Mayor Kevin Johnson has written a letter calling on the Maloofs, owners of the Kings, to honor their arena deal.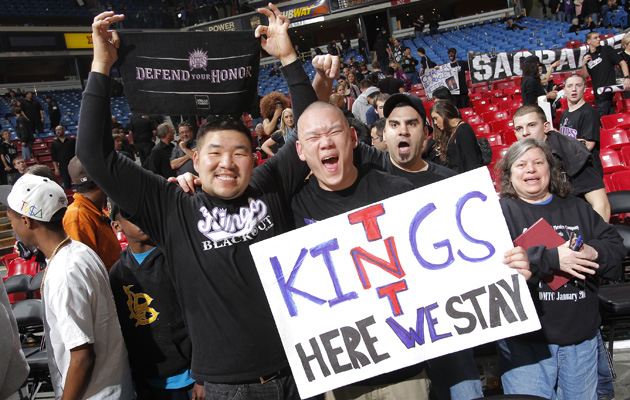 Kevin Johnson is trying to make sure the Kings stay in Sacramento.
(Getty Images)
Honor your word.
That's the message Sacramento Mayor Kevin Johnson delivered to the Maloofs, owners of the Kings, in an open letter on Thursday.
Johnson, CBSSports.com's Ken Berger
reported Thursday
, is headed to New York City to attend
NBA
Board of Governors meetings, where the Kings arena plan will be discussed.
Back in February
, the NBA, the Maloofs and the city of Sacramento agreed to a framework of a new arena proposal that would keep the Kings in Sacramento. There have been snags recently, though, including the Maloofs
balking at some fees
 they were being asked to pay.
In his letter,
obtained by KXTV on Thursday
, Johnson directly calls on the Maloofs to honor the agreement.
First, all parties agreed to a deal in Orlando on February 27th, codified in the term sheet subsequently approved by our City Council.
...
Any representation that a deal was not reached is simply not consistent with the perspective of every other party to the negotiation nor the actual statements of the family.
...
The best - and only - way to demonstrate that commitment is to honor the "fair deal" as all other parties have done. Your handshake is your handshake. Your promise is your promise.
It's unclear how the Maloofs will respond to the public heat but they
reportedly accepted a loan from the NBA in March
to help pay their share of the arena's pre-development costs. That can't be a good sign.
The takeaway here is that a handshake deal is only as good as the width of the billfold in the pockets of the respective handshakers. A man's word is worth a lot but his wallet will always be more valuable when it comes to financing a nine-figure sports stadium.
Hat tip: SacTownRoyalty.com.
Show Comments
Hide Comments
The two best point guards in the East go at it in a series sure to be filled with drama.

Breaking down key matchups as the second season reaches the conference semifinal series

The second round of the 2017 NBA Playoffs tips off Sunday at 1 p.m. ET, with Game 1 of Cel...
The Spurs have homecourt advantage, and will host Game 1 Monday night at 9:30 p.m. ET

All-Star guard flew to Washington after Game 6 vs. Bulls to attend his sister's funeral Sa...

Some love for the Rockets over the Spurs, and at least one expert says the Cavs are going...