Kevin Love doesn't seem to be completely over his contract negotiation
Kevin Love wasn't shy about his disappointment in his contract situation last season, but says he's over it now. And by over it, he means he'll still bring it up and talk about it.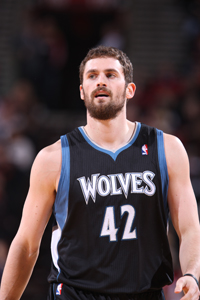 Kevin Love is so over last year's contract disappointment.
(Getty Images)
There's kind of a rule in sports: You keep your superstars spoiled and happy.
The Minnesota Timberwolves, for whatever reason, seemed to go against that last January in their extension negotiations with Kevin Love. Love, who is unquestionably one of the best players in the league and absolutely a franchise cornerstone, eventually settled on a four-year max deal with an opt-out after the third season. Love wanted the designated player five-year max. But the Wolves, against all common sense, wouldn't go for it.
Love wasn't shy about his disappointment in it last season, but he says he's over it now. And by over it, he means he'll still bring it up and talk about it. Via the AP:
"That's because I wanted to be here," Love said, slapping his hand on the arm of a chair to stress the point. "I wanted them to say, 'When people think Minnesota Timberwolves, they think Kevin Love.' And I felt with my contract we didn't really do that."

Owner Glen Taylor and president of basketball operations David Kahn wanted to keep maximum flexibility with the payroll. So they were hesitant to offer the five-year maximum to Love or any other player, for that matter.

"There's a lot of stuff behind the scenes that people didn't know about and they will never know about," Love said. "A lot of people looked at me and said, 'Oh, he doesn't want a four-year deal?' No. I wanted to be the guy. I wanted to be THEIR guy. The fact that I worked as hard as I possibly could and made my mark in many different ways, even after last season, I felt I was a little bit slighted. At this point I'm past that now."
See, totally past it. He felt slighted last season. But he's over it. Yep.
This is the first year of Love's four-year deal, meaning he can opt out in three. Love said he's happy with the direction of the team and the new additions on the roster, but if things don't progress as planned, you can be absolutely certain he's leaving Minnesota in three years. He wanted to be Their Guy, and the Wolves didn't let him. So he's not going to get all sentimental if they aren't winning in three years.
So why did the Wolves hold back? The general line of thinking is that they wanted to hold on to that five-year max for Ricky Rubio, for some reason.
The Wolves have time. Three seasons is a lot, especially considering the direction is positive. There's a good chance of a playoff appearance for Minnesota this season and if things progress, maybe a decent seed. Are the Wolves going to be a championship-level team any time soon? That doesn't seem to be in the cards quite yet, which is something you can be sure Love will have an eye on.
It's just strange that the Wolves dug in and rubbed their top star the wrong way. Love is a top-10, maybe top-five player in the league. And instead of paying up and locking him in for as long as possible, they disappointed him and gave him an out two years ahead of time.
So while the Wolves are looking less like punchline they've been recently, it's not completely out of their system. Nor the slight of it out of Love's.
Show Comments
Hide Comments
Sidelined most of the playoffs, Kerr can't understand why the Cavs are not favored

Two years ago, at least one scout would've taken him over Karl-Anthony Towns

The sign, however, says Jordan never flopped -- which is incorrect, as the film shows
Curry's turnover was a key moment in the Warriors' Game 7 loss last season

Curry is having an impressive postseason campaign, averaging 28.6 points per game

They have consistently posed problems for the Golden Boy, but can they keep it up?