Kevin Love pulling out of Team USA because of Wolves situation
Minnesota superstar Kevin Love doesn't want to risk injury at the World Cup this summer.
• 1 min read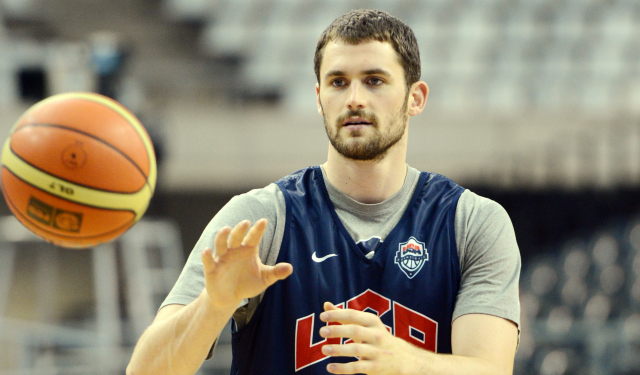 More Love: Ranking the trade offers | Doyel: What is Bulls' angle? | Rumors
Kevin Love will not play for Team USA this summer, USA Basketball national team managing director Jerry Colangelo announced in a statement. 
"The fact is we can only look to the players we have available," Colangelo said. "Our job is to get the job done with our very, very deep roster, and we're anxious to get things started."
It says in the statement that Love informed USA Basketball he wouldn't participate "because of his current status." Translation: He is waiting for the Minnesota Timberwolves to trade him and does not want to risk injury.
Training camp begins on Monday, so you can call this a last-minute decision. Love might have thought this whole saga would be wrapped up by now, but if the Cleveland Cavaliers are indeed his most likely destination and Andrew Wiggins is going to be a part of the package, nothing can be done for about a month.
Love would have been a lock to play in the World Cup this summer. Losing him is sort of a blow for Team USA -- there's not another player like him participating -- but they have such an overwhelming talent advantage that it probably won't matter. There are no plans to reach outside the already-announced player pool for a replacement.
"You can't just sit around and cry in your beer about who you don't have," Colangelo told ESPN's Marc Stein. "You look at what you do have and you say, 'We're going to get the job done.' We feel very confident about our opportunity. We're ready for it." 
Show Comments
Hide Comments
The Celtics star coach looks ready to take the throne as one of the great coaches in the l...

Utah couldn't clinch at home, and the Clippers live another day

The Celtics coach appeared to be upset when the chants broke out
Cleveland will host Toronto on Monday

Boston will host Washington on Sunday

Nothing can happen until Cleveland's season is over, however