Kings crowdsource draft advice
Kings general manager Pete D'Alessandro would like you to show your analytical stuff.
• 1 min read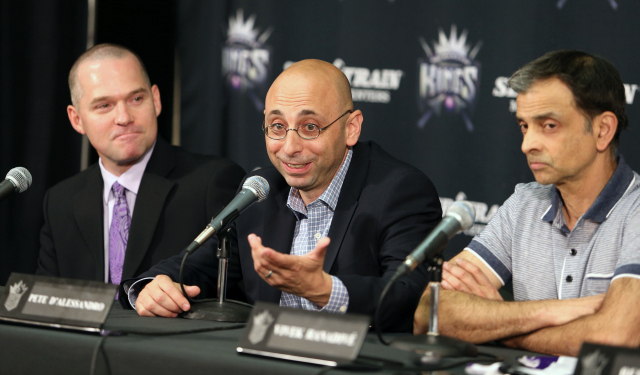 More Draft: Emmert meets with owners | Early entries this year | Draft news
Sacramento Kings general manager Pete D'Alessandro, who did a Reddit AMA earlier this week, continues to establish his franchise as the most Internetty of them all. On Friday, the Kings announced a challenge for "the best analytical minds" to submit their best draft research and rankings to the team by May 19.
They're calling it called "Draft 3.0," and those who provide the best insight will be "considered for an invitation to a Kings Draft Advisory Council" that will meet from now until the draft. As many as two of those lucky participants might end up in the draft room with D'Alessandro and the rest of the front office on June 26. Yes, D'Alessandro did another AMA to talk about it, and he also spoke with ESPN's Brian Windhorst. 
"This may not get us all the answers, but it may help us think of the right questions to ask," D'Alessandro told ESPN.com. "We're still going to be using traditional draft methods, traditional scouting and our own analytics. We're looking to combine all the creative things as we look for a way to bring the answer in."

…

"I don't know where this will go, but it's a first step in the way we want to go as an organization," D'Alessandro said. "It's also a way to give back. If I saw this on the Internet 10 years ago, I would've been all over it. I also know that people really do think the game who are not in the game. There are people with so much knowledge out there."
Hey, worst-case scenario, Sacramento gets a whole lot of free analysis it doesn't use and a subsection of Kings fans get to feel like they're involved with the decision-making process. Maybe someone even winds up with a job offer. After all, according to Sacramento owner Vivek Ranadive, D'Alessandro was initially told his chances of getting the general manager position were "1 percent."
Show Comments
Hide Comments
The series shifts back to Washington for a pivotal Game 5

The Celtics and Bulls meet in Boston for a pivotal Game 5

Kerr is optimistic about making a full recovery
If this is their real list, some of the names are pretty hilarious

The bucket pushed the Spurs' lead to seven, and the Grizzlies never got that close again

Trade Kanter? Re-sign Roberson? What about Westbrook?