Kings GM Petrie thinks Kings need patience, but says roster changes possible
Kings GM Geoff Petrie wants more time to evaluate the team before making roster changes.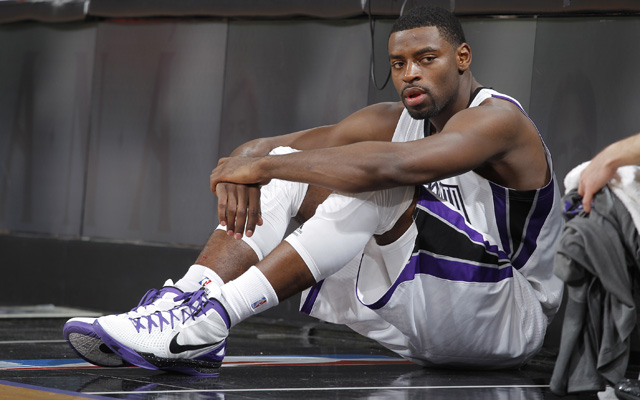 Tyreke Evans could be moved if the Kings make changes (Getty Images)
It is time for a new direction in Sacramento. While the owners try and weasel their way into a new zipcode, the team is floundering, again. This year, the defense is decent and the offense is odorous. The year that was supposed to bring real development and progress to the young roster has resulted in the same misery that has plagued the team since 2004. 
But GM Geoff Petrie? He thinks that patience is the answer. From the Sacramento Bee on the possibility of roster changes: 
"I think in the short term you have to give it a little more time. And maybe there are different lineup combinations that will work better, maybe there are different rotations that will work better. But at some point those things have to be open for discussion. I don't think this early in the season any teams are looking to be aggressive and make changes."
via Jason Jones's post on Sacramento Kings | Latest updates on Sulia.
He's right that few teams are looking to make a move right now. They want to see how their units gel, how things come together. But Petrie needs to have lines of communication open. At the same time, he could and just be telling the press the opposite. Players finding out they're on the trade block is how you make a bad situation worse. 
But if he's serious, he can't be. This isn't about lineups, or combinations. It's about chemistry, execution, and talent. And the Kings are doomed on all three fronts. 
Tyreke Evans needs to be more, and he hasn't been. Isaiah Thomas needed to pick up where he left off, he hasn't. The most promising feature of the team has been Jimmer Fredette's improvement, and that's minimal and in garbage time, very often. 
The Kings are a mess. A hot mess. The roster, the chemistry, the execution, the ownership, everything. The fans deserve better. But then, that's nothing new. What will be crushing is you can already see the timeline for when things will turn around, just as the team settles into its new surroundings due to the Maloofs maneuvering on the arena deal to get out of town. 
If Petrie does decide to make changes between now and the deadline, expect Tyreke Evans to be the first player packaged out. The Kings elected not to offer him an extension before the deadline and as a result, he'll be a restricted free agent. That's the exact kind of player teams will lick their chops for. But there are other players including Chuck Hayes and even, as improbable as it sounds, John Salmons, who could draw offers. If Petrie gets on the market, he'll have options. 
But what does he do with them then? 
Don't even think about it -- LeBron's reportedly not going anywhere

The point guard's unhappiness reportedly helped lead to his eventual trade request

Even Floyd Mayweather weighs in on the war of words between the two stars
The three-team deal would have also shipped Kevin Love to Denver

Ball wasn't happy about a foul call, swore at a referee and took his team off the floor

Jared Sullinger wants back in the NBA; he knows his weight will play an important part