Kings, Knicks agree to 4-player trade involving Outlaw, Ellington
The Sacramento Kings have agreed to trade Travis Outlaw and Quincy Acy to the New York Knicks in exchange for Wayne Ellington, Jeremy Tyler and a 2016 second round pick.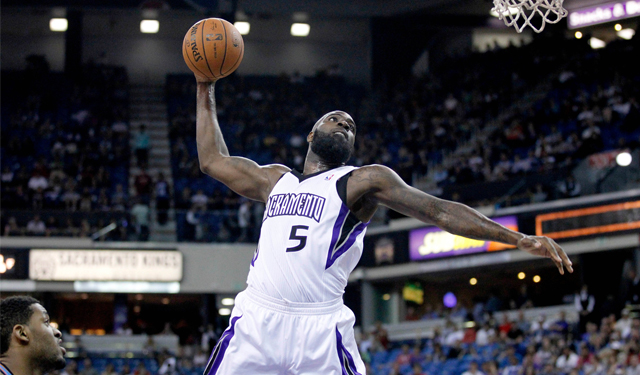 More Offseason Analysis: Coaching changes, news | Free Agency | Draft
The Sacramento Kings and New York Knicks have agreed to a trade involving four  players and a second round draft pick. The Kings announced they will send Quincy Acy and Travis Outlaw to the Knicks in exchange for Wayne Ellington, Jeremy Tyler and an unencumbered 2016 second round pick. Tyler has a non-fully guaranteed contract for this coming season and could be waived by the Kings. They could also use the stretch provision on Ellington, who is in the final year of his deal.
USA Today's Sam Amick reported the Knicks agree to remove the protection (from 31-37) on a 2016 second round pick that was originally dealt to the Portland Trail Blazers in the Raymond Felton trade in 2012 and then sent to the Kings in 2013 as part of the Tyreke Evans sign-and-trade. From the Kings:
The Sacramento Kings today acquired forward-center Jeremy Tyler, guard Wayne Ellington and the unencumbered rights to the Knicks' 2016 second-round draft selection from New York in exchange for forwards Quincy Acy and Travis Outlaw, it was announced by Kings General Manager Pete D'Alessandro. 

"We want to thank Quincy and Travis for their contributions to the Kings organization," said D'Alessandro. "We all wish them great success in their careers moving forward."
Outlaw is in the last year of his contract after being amnestied by the Nets in 2011 and claimed by the Kings. Acy has a non-fully guaranteed contract for just under $1 million this season, but Amick reported that New York will keep him around. He could provide some decent depth for the Knicks. For the Kings, waiving Tyler and stretching Ellington's contract would allow them to get farther under the luxury tax threshold of $76.8 million. 
Show Comments
Hide Comments
Milos Teodosic may be 30 but there are rumors he's heading to the NBA

Dirk Nowitzki had some fun with Harrison Barnes as he approaches 20 seasons in the NBA

Thunder fans used the term 'cupcake' in reference to Durant after he left OKC in free agen...
There appeared to be some wishful thinking on the part of Charlotte general manager Rich C...

Thompson is one of the best shooters in the league, but it appears dunking isn't his speci...

Cuban was willing to part ways with employees who leaked ahead of the official announcemen...