Klay Thompson believes Warriors would be undefeated if healthy
Klay Thompson is probably crazy about this but at the same time, they did start out 24-0, which is also crazy.
35-0? Would that have been possible for the Golden State Warriors? Klay Thompson thinks so. If the Warriors didn't endure injuries to Thompson and Harrison Barnes, he believes the historic start to the season and the winning streak would still be alive. That would put them at a ridiculous 35-0 right now, which seems insane until you realize that they're 33-2. That's also absurd and historic.
The two losses the Warriors have suffered are to the Milwaukee Bucks and the Dallas Mavericks -- both games that were fueled by the injuries against the Warriors. That's not to say injuries haven't helped the Warriors either. They've faced battered teams so far this season and taken advantage of them. In a Q&A with Tim Bontemps of the Washington Post, Thompson recognizes the streak was going to end eventually. But he still believes the Warriors would still be going if they were healthy.
You clearly weren't in rhythm coming back from it in Milwaukee in the game that ended the streak. That must have been tough.

Yeah, it was frustrating, but that's hoops. That's basketball. I was lucky it wasn't that bad. It did suck, but we were gonna lose eventually. If we were completely healthy, we probably would still be undefeated, but Milwaukee caught us at a great time and they played a great game, so that's hoops.
The loss to Milwaukee did feature Thompson one game back from injury and Barnes still gone, but the Warriors still had plenty of chances to take control of that game and find a victory. The loss to Dallas is much more understandable because the Warriors didn't have Stephen Curry, and seemed completely lost in how they were supposed to play without him. Since then, they've figured it out with Draymond Green leading the way when Curry isn't able to perform.
Thompson has also stepped up at times in Curry's absence, as the reigning MVP recovers from a bruised shin that is bothering him. Even though the Warriors feel they'd be undefeated, they can settle for the best start to a season after 35 games being 33-2 instead of 35-0. They're still a game ahead of schedule in comparison to the Chicago Bulls' record of 32-3 during their historic 72-win season.
And nobody outside of the Bay Area is likely to shed tears for the Warriors. People are just trying to figure out how to beat them no matter which combination ends up on the floor.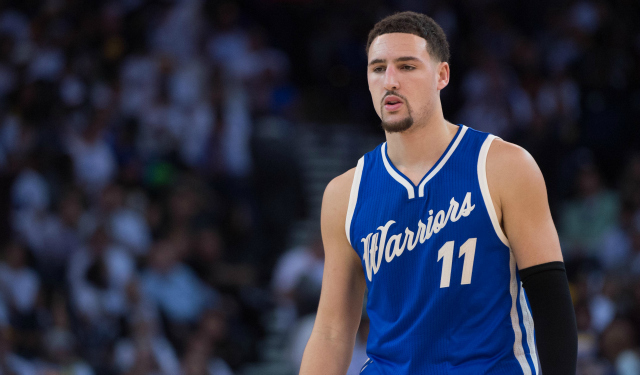 Show Comments
Hide Comments
Our experts predict whether the Jazz can compete with Golden State, along with the rest of...

Breaking down key matchups as the second season reaches the conference semifinal series

Pierce's 19-season run in the NBA ended Sunday as the Clippers bowed out of the playoffs
Utah overcame its relative lack of experience with a balanced, deep and versatile roster

Our experts predict every series in the 2017 NBA playoffs

The series opener between Houston and San Antonio tips on Monday night